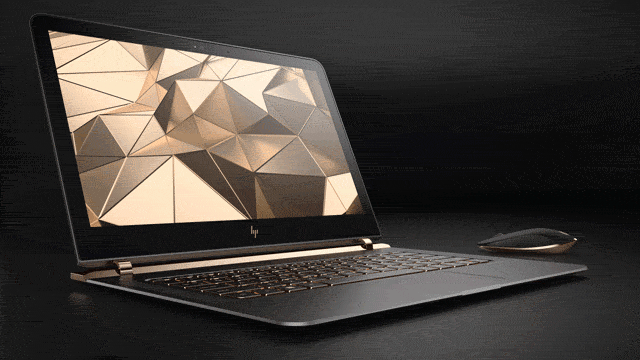 HP announced a new laptop that it is billing the thinnest ever, and it comes with a sleek and shiny copper finish that looks less like a laptop and more like a piece of jewelry.
This new set of laptops marks an upgrade to the HP Spectre line, beating its predecessors' 15.9 mm thickness with a 10.4-mm aluminum chassis, which is the size of a AAA-battery. In comparison, the 13" LG gram is 12.7 mm, the 12-inch Macbook is 13.1 mm and the MacBook Air is a "hefty" 17.27 mm. To get the computer so skinny, the engineers split the battery into two thinner, hybrid batteries that supply up to 9.5 hours of life. The gram's battery only lasts seven and a half hours, while the MacBook's lasts up to ten.
While slimmer, the Spectre is the heaviest of the bunch, weighing in at 2.45 lbs to the LG gram's 2.16 lbs and the MacBook Air's 2.38 lbs (although one-tenth of a pound isn't noticeable in the grand scheme of things). Maybe the Bang & Olufsen stereo speakers pack on the pounds?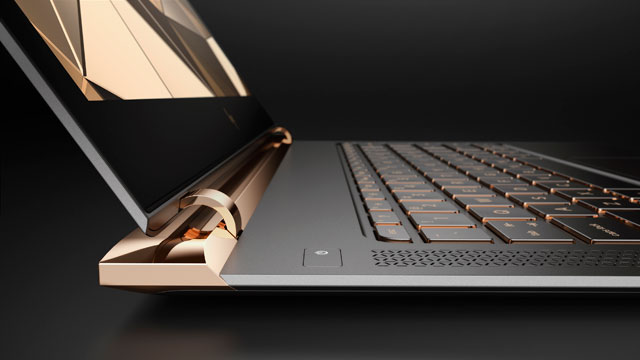 What's most striking about HP's Spectre is its design. That shiny copper is sexy, and it's not something Apple and LG's computers have used before. The hinge is hidden, as well, which is refreshing to see (or rather, not see). Its Full HD IPS display also sports edge-to-edge Corning Gorilla glass, which will help keep the laptop protected from scratches and cracking.
The new Spectre's insides are powerful, too. Like its LG gram counterparts, the Spectre has sixth generation Intel Core i5 and i7 processors for speedy performance (the MacBook Air's i5 and i7 processors are fifth generation). The 13" LG gram comes with 8GB RAM standard, but HP's Spectre, while able to be configured with 8 GB, doesn't come standard with that much power.
HP is also debuting new ENVY Hybrid and ENVY laptops, which are thinner, lighter and have longer battery life than the previous generation. Upper level models will also support Windows Hello for greater cyber security.
The Spectre will be available online at HP.com and BBY.com April 25 for a $1,169.99 starting price, and will make its debut at Best Buy brick-and-mortar stores May 22 for $1,249.99. It's a lot more expensive than the first tier LG gram ($799.99) and even Apple's 13-inch MacBook Air ($999), so it's your call whether the design lives up to the price.
[HP Spectre via HP]