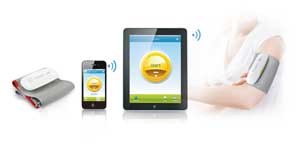 Diabetics will soon be able to measure their blood glucose levels directly on an iPhone, iPod Touch or iPad thanks to the iHealth Smart GlucoMeter previewed at CES.
A small interface unit attaches to the Apple dock connector. An industry-standard test strip fits into this device and, after taking a blood sample, the results are calculated using a free downloadable app. The user can graphically chart results over 7-, 14- and 30-day timeframes. The results can also be sent to caregivers and healthcare professionals.
Also displayed at the show were a wireless body fat scale that connects to your Apple device via Wi-Fi, and a blood pressure dock that works with a wireless Bluetooth cuff for more comfortable readings. The blood pressure dock also doubles as a charging station for your iPhone, iPod or iPad. All of these products are scheduled for release in the second half of 2012, with pricing to be determined.