Be extra careful with any shortened links you are sent this week, because they could be to a site that causes your computer or smartphone to crash. The website, crashsafari.co (and crashsafari.com), does exactly what it says it will: crash the Safari browser—and cripple other browsers.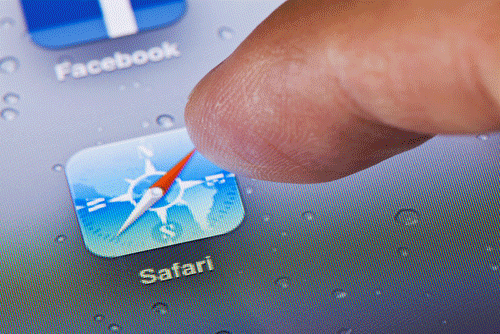 The website populates the address bar of whichever browser is your default (so using Google Chrome still leaves you vulnerable) with a huge string of text that is difficult for devices to efficiently process. This causes a memory issue, and after about 20 seconds, an iPhone will reboot. People are reporting that iPads will also reboot and Androids using Chrome will become sluggish until you quit the app.
Unfortunately, if you're using Safari on a desktop or laptop, you're also at risk, especially if your computer lacks the processing power necessary to handle all of that site's hidden code. Google Chrome on PCs and Macs also slow down to a turtle's pace.
Clearly, this website prank doesn't discriminate based on device. According to Twitter account @FSLabs, at 6:47 AM, one particular short-link version had already been clicked on more than 100,000 times. That's a lot of pranked people. Fortunately, your device will return to normal without lasting effects after rebooting.
If you're not sure about where a shortened link will lead, you can copy and paste the URL into a link expander, like LongURL, to see the full link.
If you do fall victim, here's what you can do. For PC web browsers, close the individual tab if you can. If your whole browser is locked up, you can close the program by hitting Ctrl+Alt+Del and selecting Task Manager. When the list of programs comes up, right lick om your web browser and select End Task. For Mac web browsers, close the individual tab if you can. If your whole browser is locked up, click on the Apple icon in the upper left corner and select Force Quit. Then select your web browser from the list of programs to quit.
Last year, another text message prank used a ton of non-Latin characters to force the Messages app on iOS devices to repeatedly crash. Apple told users afflicted by the bug to use Siri to remedy the situation, and eventually released a software update to make the bug null and void.
These links and messages are currently being used for just for "fun," but the methodology behind them is something security experts are keeping a close eye on.
As always, our advice is to never click on any suspicious-looking or shortened links sent from unknown senders. You should also make sure to update your software as soon as a new version is released.
Updated on 1/27/2016: Crashsafari.co is the official site. Crashsafari.com redirects to crashsafari.co with the same results.
[Safari app via ymgerman / Shutterstock.com]