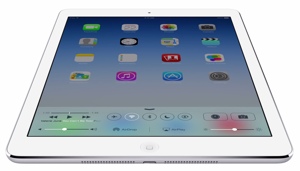 If you're one of the lucky folks to have gotten your hands on a new iPad Air today, congratulations – you've gotten your hands on Apple's most powerful and lightest big-screen tablet to date. Whatever you do with it, though, be careful: According to a teardown of the device by repair website iFixit, the new Air is prohibitively difficult to repair.
It's something of a tech tradition: Every time a widely anticipated tech gadget is released, iFixit puts it under the scalpel, taking it apart to see just how easy it is to do so. After much work, iFixit gave the new Apple iPad Air a Repairability Score of just 2 out of 10.
What makes the new iPad so darn difficult to fix? The biggest issue is that Apple continues to use lots and lots of glue to put together each iPad. Taking a tablet apart means breaking these seals, which dramatically increases your odds of breaking an unrelated part or cracking the screen during repair. Even the battery is a nightmare to replace because of its adhesive. Says iFixit, "this is the most difficult battery removal procedure we've seen in an iPad."
What does all this mean for you? Naturally, the harder an iPad is to repair, the less likely you'll be able to make a fix yourself and the more expensive it will be to get someone else to do it for you. So don't risk disaster – protect your new purchase with a protective case. You may also want to consider getting gadget insurance for your new Air.
For more on the teardown of the iPad Air, check out iFixit's step-by-step analysis or the site's video, below.