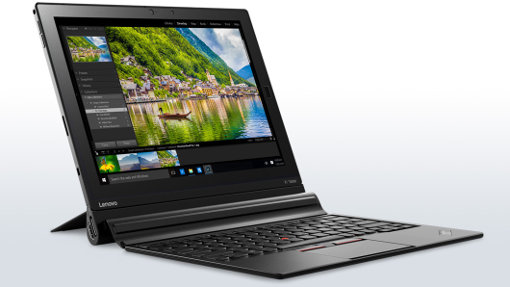 When you want more features than a single device can provide, try a device that adapts to fit your needs: the Lenovo ThinkPad X1 Tablet, coming in February for $899. The X1 transforms from a tablet to a laptop and comes with optional modules that let you use it as a laptop, a projector or a 3D camera.
The ThinkPad X1 modules, sold separately from the tablet, attach to the bottom of the unit. There are three modules available: an extended battery life module, a projector module and a 3D imaging module.
For a longer battery life than the tablet provides out of the box, clip on the productivity module to jack up the tablet's usage time to about 15 hours. This add-on will be available in February for $149.
If you rely on your tablet for slideshow presentations, you'll find the presenter module a great help. Coming in May for $279, this module adds a pico projector and HDMI port to the tablet so you can show your slides on a bigger display to a bigger crowd. (If you're looking for a tablet with a built-in projector, Lenovo launched one in 2015: the YOGA Tab 3 Pro.)
If you're interested in creating three-dimensional content, the 3D imaging module features an Intel RealSense back camera. Lenovo will release this module in May for $149.
The Windows-based ThinkPad X1 tablet comes with a full-size keyboard, effectively transforming it into a laptop. The keyboard inclines at three angles for comfortable typing. Built-in LTE Advanced (LTE-A) support keeps you connected online at high speeds.
At 2.4 pounds, the X1 Tablet is light enough to carry around conveniently. A removable back plate makes servicing and hardware upgrades easy.
Lenovo has also unveiled two other models in the X1 series, the ThinkPad X1 Yoga and the ThinkPad X1 Carbon.
The thin (0.66 inches), light (2.8 pounds) X1 Yoga features a retractable Lift and Lock keyboard that lets you easily hide the keyboard for tablet-mode use. If you're into taking notes and highlighting documents on your mobile device, you'll find the active pen very useful. A built-in holder and charger for the pen helps prevent misplacing it. An optional Samsung OLED screen displays crisper, more vibrant colors with deeper blacks. The X1 Yoga will be available this month with a price tag of $1,449. OLED-screen models will be available in April.
The other new member of the X1 family is the 2.6-pound ThinkPad X1 Carbon. Heeding user feedback, Lenovo has added several customer-centric design improvements including more display options, bigger memory and storage and better connectivity. The X1 Carbon has a 14-inch display and is meant for business use. It will arrive in stores in February for $1,299.
All three newcomers to the X1 series include features such as 1-terabyte SSD storage, LTE-A connectivity, WiGig wireless docking, fingerprint reader and security chip and durability features.
Accessories for the ThinkPad X1 series include the thin, lightweight ThinkPad X1 Wireless Touch Mouse that doubles as a touchpad presenter and the Dolby-optimized ThinkPad X1 In-Ear Headphones. Both will be available this month for $69.99 each. Also available for the X1 Yoga and X1 Carbon are a carrying sleeve with a soft interior and magnetic flap ($50, coming in February) and a 65-watt micro power adapter ($80, to be released later this year) that is about half the size and weight of standard power adapters.
[Image credit: Lenovo]