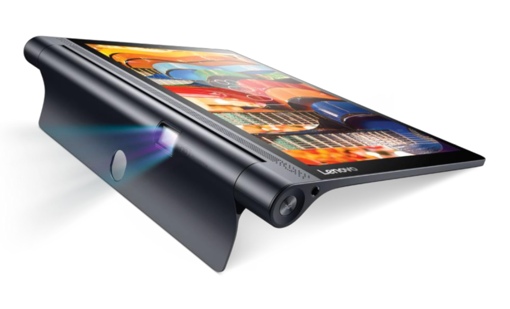 Today, computer maker Lenovo took the wraps off its Holiday 2015 lineup of personal devices. The unveil included a handful of YOGA Tab 3 Android tablets, but the one that truly caught our attention was the new YOGA Tab 3 Pro. It's a 10.1-inch QHD tablet (Android 5.1) with a new-and-improved, built-in projector.
The YOGA Tab 3 Pro is being billed as the "ultimate theater-to-go," and there's some truth to that claim. It has a small 180-degree-rotatable projector (480p) built in to the tablet's hinge that turns any wall in your home or office into a 70-inch movie screen. Lenovo has improved projector brightness up to 50 lumens, making images noticeably easier to see than they were with last year's YOGA Tab 2 Pro. And when you want a more intimate and high-definition experience, you can always watch movies on the tab's 10.1-inch QHD screen (2560 x 1600).
Inside the tablet, you'll find a quad-core Intel Atom processor, 2 GB of RAM, 16 GB of storage (expandable to 128 GB via MicroSD) and 4 front-facing JBL speakers with Dolby. It has a 13-megapixel rear camera, along with a 5-megapixel front-facing camera for selfies. The YOGA Tab 3 Pro has an impressive high-capacity battery, too – the tablet can last for 18 hours on a full charge. That's more than enough juice to keep you entertained on long international flights and the occasional family camping trip.
With a price tag of $499, the 10.1-inch Lenovo YOGA Tab 3 Pro is at the high end of the Android tablet market and is competitive with the price of the current Apple iPad model. (Expect to pay more for 4G LTE, if desired.) The tablet is expected to hit store shelves in November 2015. For more information, visit the Lenovo website.
[Image credit: Lenovo]