It's easier than ever to store our photos digitally, but when you want to remember that one special moment, nothing beats a physical photo book. Because it's so simple to snap photos on our phones, we often collect a massive library of disorganized snapshots — with the family vacation lost somewhere in the middle. A photo book brings order to that chaos, letting you organize your best shots into a book packed with memories.
Making your perfect photo book is easier than you think — and it doesn't require any scrapbooking supplies or design skills. Photo companies like Mixbook offer online tools with easy-to-use templates that let you build your own personalized photo albums in all shapes and sizes. And while you can customize your book as much as you'd like, a plethora of pre-made designs means you can get professional results without any graphic design skills.
So instead of being intimidated by your photo library, it's time to dive in and turn your digital memories into physical keepsakes. Here's how to get started.
Find your favorite photos
The first step is deciding what you want to include in your photo book. You might want to make a book to remember your last vacation, collect the highlights from the last Little League season, or even make a personalized story book with the kids. Whatever you're commemorating, start by brainstorming what you want to include — which can be a fun way to reminisce with family and friends (and raid their photo libraries, too).
Once you have an idea of the events you'd like to include, it's time to dive into your photo library. Start by picking from two to five photos from each event. Expect to use around 100 photos for a standard 20-page book, though the format you choose may mean you need fewer photos — or more pages.
Pick the best photo book template
After sorting through your snapshots, you probably have some idea of the style your photo book should have. And, fortunately, you don't have to start designing from scratch unless you want to. Using one of the hundreds of templates on Mixbook, you can make your own photo book in a snap. Browse templates by category — with templates that range from baby books to family albums — until you find the look you want.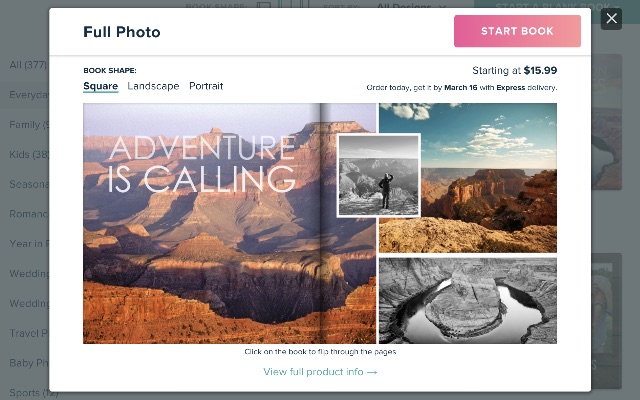 And even though you're working with a template, every photo book can be customized until it's exactly the way you like it. You can change the photo layout on each page, swap backgrounds, and add art or text wherever you'd like. The options are endless. But if that sounds like too much work, you can select a template and use it just as it is.
Add your photos
You've found the right photos and the right design: now it's time to combine the two. It's as easy as clicking the "Add Photos" button and selecting photos from your computer or from another website (or both).
After you've uploaded your pictures, Mixbook can automatically arrange them for you or you can pick the perfect spot for each picture yourself. Just drag and drop pictures around to get them just where you want them.
Make sure your photos are picture perfect
Once you have your photos arranged just the way you'd like, it's time to flip through the book. You may find some of the pictures you thought you loved aren't quite up to snuff. Replace blurry or low-resolution photos so you have the best shots for your album. If a photo is too dark, you can adjust the brightness right from Mixbook — or even tweak the colors for something fun. All the tools you need are right in Mixbook.
Personalize your layout
Your photos are all in the right order, and every one of them looks great. Now it's time to personalize your book with details that make it really yours. You can add unique frames to the pictures you want to highlight and drop in stickers that help each page really pop. Text can go anywhere: add fun quotes from the family or tell stories to accompany your snapshots.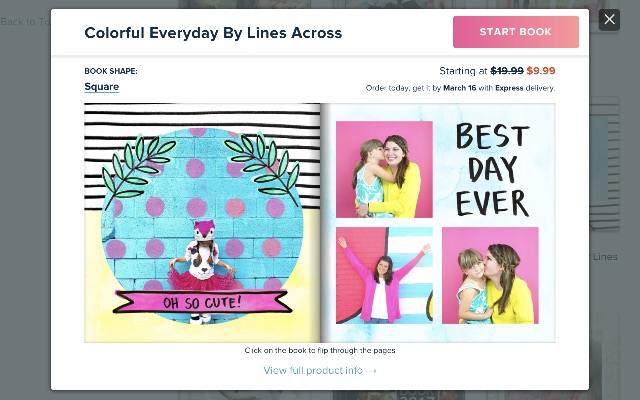 Once you've tweaked your book to your heart's content, you're ready to print!
Use Mixbook for your next photo album
There are plenty of places to print your own photo books, from your local drugstore to online services like Mixbook. But Mixbook is hard to beat. It's easy to jump in and make a beautiful book using one of the site's templates, but you can also customize as much as you'd like to make a book that's all yours. The service is flexible enough to let you do anything you want with your photos.
But they aren't just easy to make: these photo books are beautiful. You can get anything from a simple softcover photo book to a high-end hardcover leather album, ranging in size from 8 x 6" to 14 x 11", all printed on high quality paper. And best of all, these customizable photo books start at $15.99.
It's time to say goodbye to your disorganized digital photo collection and start building your own photo books. You can check out what Mixbook has to offer with this coupon for a 20-page, 12 x 12 matte hardcover photo book with semi-gloss pages for just $29.99 — or up to 50% off anything else on the site.