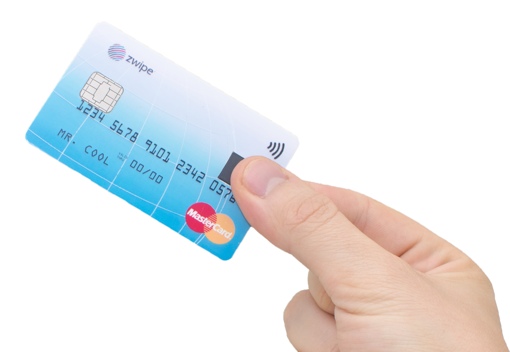 On Monday, Apple is expected to officially launch its Apple Pay mobile payment system. The NFC-based offering uses Touch ID for security – that is, you'll need to approve each purchase you make with your own thumbprint. Because of that extra verification step (and thanks to other encryption steps), Apple Pay is arguably a more secure way to complete a purchase than using a traditional credit card.
As for the traditional credit and debit cards sitting in our wallets and purses – well, they're about to get a Touch ID-type feature of their own. Today, MasterCard and Zwipe announced the launch of the first contactless payment card with a built-in fingerprint sensor. The new technology will be compatible with all chip-and-PIN payment terminals for release in 2015, and comes on the heels of a successful pilot program with Sparebanken DIN in Norway.
"Our belief is that we should be able to identify ourselves without having to use passwords or PIN numbers," says Ajay Bhalla, President of Enterprise Security Solutions at MasterCard. "Biometric authentication can help us achieve this. However, our challenge is to ensure the technology offers robust security, simplicity of use and convenience for the customer. Zwipe's first trial is a significant milestone and its results are very encouraging."
For security purposes, Zwipe stores your fingerprint data directly on the card rather than on a third-party server. So long as your thumbprint matches, you'll be able to complete contact-free payments without having to enter a PIN. Fingerprint-enabled cards will be approximately the same size as the ones you currently hold since there's no battery built in – it draws its power from the payment terminal, instead.
You can learn more about the MasterCard/Zwipe partnership and how the new technology works by watching the short video below. You can also visit the Zwipe website for more information.