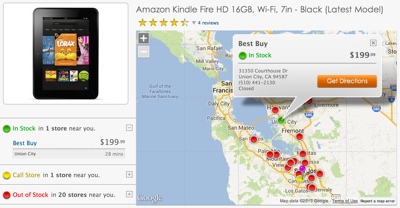 Christmas is almost here – so close that buying gifts online from many online retailers and having them shipped is a dicey proposition. Retail store shelves, meanwhile, are already clearing out of this season's hottest gifts. What's a last minute shopper to do?
Enter eBay-owned Milo.com, a local shopping site that aims to take all the frustration out of finding that last-minute present. Simply enter your address into the prompt (or click the Locate Me button) and the name of the gift item you want to buy. The site will then show local stores that carry the item on a Google Maps overlay, the item's current price and whether the item is currently in stock. Milo will even tell you if the store is currently open or closed for the day.
Naturally, Milo relies a lot on large retailers' own inventory systems, so most search results tend to skew toward big box stores like Target, Best Buy, Macy's and Toys R Us. In total, the site tracks millions of different items at more than 65,000 stores in across the United States.
But that's just the beginning: Not only does Milo track price and availability, but it also offers product information and user reviews. You can even click through links to individual stores, allowing you to purchase the item online to reserve it for in-store pickup.