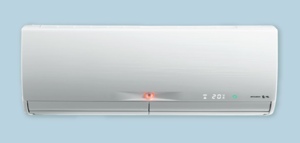 Air conditioning seems more like a blunt tool than a precision technology. When we get into a hot car, we blast the air to cool things down quickly. When things get too cold, we fiddle with dials to try to get things perfect. And, of course, no matter how hard we try to adjust things, it seems our feet are always way warmer – or colder – than the rest of our body.
But that was the old way. This November, Japanese conglomerate Mitsubishi will launch 11 new smartphone-controlled Kirigamine Z Series air conditioners, all with infra-red sensors smart enough to launch tactical strikes on pockets of heat, no matter where they may be hiding.
The tech is a pretty advanced leap for air conditioners, a piece of consumer electronics not especially synonymous with innovation. The Kirigamine Z Series' sensors take into account where in the room you are, what temperature you are (to 0.1°C), what position you're in and who else is in the room with you. Armed with a temperature map, the air conditioners calculate which of their 34.3 billion airflow patterns will cool the warmest areas the best while avoiding areas that are already cold. These energy-efficient devices are even smart enough to stop when you leave the room, if you'd like.
Without a doubt, the Kirigamine Z Series is the most technologically advanced air conditioner you'll own. Or it had better be, at least. A Z Series AC unit will set you back anywhere between $2,200 and $3,700 (estimated).