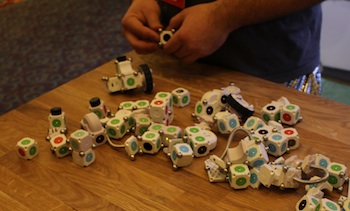 During my time covering Toy Fair, I've seen a lot of products compared to or touted as being like Legos because they're similar in one or two ways. But it's not often that I see a toy that actually embodies all the things that make Legos attractive to kids and adults of all genders. The Moss construction kit from Modular Robotics is the first toy in a long time that lives up to the comparison.
Moss cubes aren't as basic as Lego building blocks, though kids can use them to build a recognizable structure or robot in less than five minutes without extensive tutorials or understanding of electronics. Each cube has a function: providing power, sending data, spinning, motion/distance sensing, lighting up, creating a Bluetooth connection with a tablet or smartphone. Different types of connections have color assignments, and all kids need to do is figure out how to connect the colors correctly to send power, data or both in order to make a toy move.
Another similarity to Legos: Moss kits make it possible to build both simple and complex toys with the same construction set. Unlike DIY robot kits that offer a set number of workable configurations, Moss cubes can be put together in a nearly infinite number of ways that aren't restricted to what's shown on the box.
Individual cubes connect using small ball bearings, but the balls themselves are not magnetic and not a danger to swallow (so no Buckyball situation). All available sets are compatible with each other, and the more cubes at your disposal, the bigger you can build.
It's the STEM aspect that makes Moss sets more intriguing than Legos and other analog building blocks. Kids learn about basic circuitry and electronics even if they don't realize that's what's going on. Moss kits don't look as if they came from a hobby shop or hardware store, but the essential STEM skills kids learn are the same — it's just more fun this way.
Moss kits are available for preorder now and are expected to ship in April 2014.
Price: $150 (basic kit) to $400 (advanced kit with app-compatible Bluetooth module) at modrobotics.com.