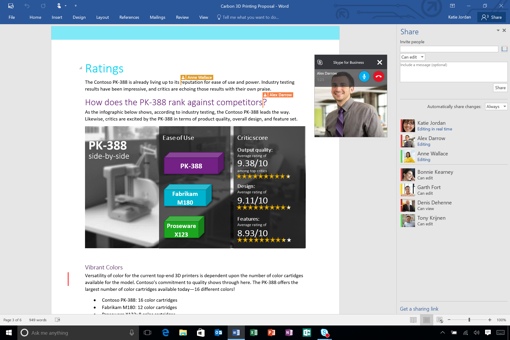 This week, Microsoft launched Office 2016 for Windows worldwide. The new Office promises Office 365 subscribers features for better collaboration, apps that match what you need to do, seamless integration with Windows 10, tighter security and more frequent delivery of improvements and new features.
The new version of Microsoft Office is designed to promote teamwork in the workplace. One great feature that caught my attention was real-time co-authoring in native apps. This feature is akin to the Google Drive feature that lets you see what others are doing to a shared document. Real-time co-authoring has been available in Office web apps since 2013, but the new Office 2016 brings the feature to native apps. Other collaborative features built into the new Office 2016 are Skype for Business for client apps, Office 365 Groups for creating private or public teams with shared resources and Office 365 Planner for better organization and time management.
Another collaboration feature that I found nifty is GigJam. Though available as a private preview for now, it will be fully included into Office 365 this year. GigJam is a way to divvy up tasks between a work group that allows you import and share emails, calendar events and databases with only the relevant people. GigJam displays these as info cards, which you can format, annotate and share with contacts. You can also add audio or doodles to cards.
Microsoft also promised faster search in Outlook 2016, an improved sync client for OneDrive for Business (Windows and Mac), Tell Me for quick and easy lookup of an Office feature or command, Smart Lookup for bringing info from the Web right into your documents, integrated Power BI publishing and modern chart types in Excel 2016 and wider accessibility of cloud-powered Most Recently Used Documents (in Office Online, mobile apps, and Office 2016 client apps).
You can get the new Microsoft Office 2016 in two different ways: either as an Office 365 subscriber or as an outright purchase. Office 365 members will be able to run the new Office on up to 5 devices for as little as $69.99 per year (home users). You can also purchase the software for PC and Mac outright for $149.99 (home users, 1 install). If you are already an Office 365 subscriber, you can upgrade to Office 2016 for home or upgrade to Office 2016 for business. For more info, check the Office 2016 homepage.
[ Image credit: Office]