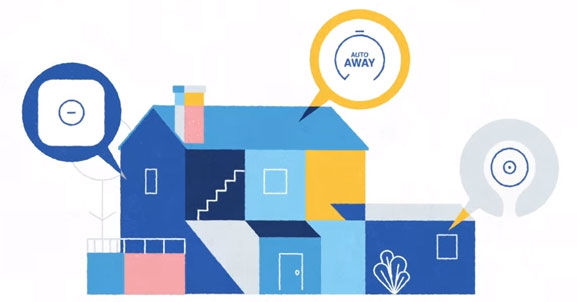 Smart home company Nest's products just learned a new trick: the smart devices can now use your location to automatically determine whether they should be in home or away mode.
The technical term for this is geofencing, and allows a phone or device to set up a virtual barrier that triggers an action when you go inside or outside of the barrier. Many products, like Honeywell's Lyric thermostat and the Canary security camera already use geofencing to know when to turn the heat down to 65 degrees or turn on the camera when you're gone; previously, iOS users could download the MaaDoTaa GeoCam app to equip their Nest Cams with geofencing.
Nest says their Nest Cam, Nest Learning Thermostat and Nest Protect smoke and carbon monoxide alarm will be capable of even smarter geofencing with the Home/Away Assist software updates they are pushing to iOS and Android devices today. Nest combined their products' built-in sensors and schedule-learning algorithms with geofencing. Their rationale is that geofencing isn't the most precise technology, and not everyone who may be in your home has a smart phone to signal that there is someone there. You wouldn't want your door unlocking when you're not right at the door, or Grandma to freeze because the thermostat turns off when you're not there.
The company's new Family Accounts will also make the job easier. Previously, users had to use one username and password to log into the Nest app. Now, anyone who has an iOS or Android device will be counted in the product's Home/Away decision process. Up to ten people can have access to your home's Nest products, whether they have an account or a passcode that lets them enter once.
Works with Nest products, like Amazon's Echo, Philips Hue, the iHome Smart Plug and Yale smart locks will also benefit from the Home/Away Assist software update, and can also be turned on or off depending on whether you are there or not.
For those who want their privacy, Nest says they will fully encrypt your location data and that they don't track exactly where you're at, just whether you are in your home or not.
With smart homes here to stay, it's nice to see new software updates, like Home/Away Assist, making them even more user-friendly.
[Home/Away Assist via Nest]