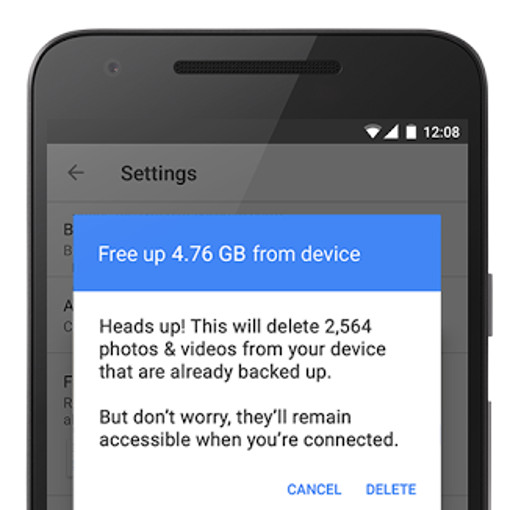 Photos capture memories, and rarely does anyone want to permanently discard them. But what if your storage space is nearly full? Google has made it easier to manage storage space on your Android device just so you don't have to face such a dilemma.
A new Free Up Space button on the Settings page in the Photos app lets you mass-delete photos to recover precious space. Don't worry about accidentally tapping the button and dumping all your precious shots. The feature will ask you to confirm whether or not you really want to delete photos.
Better yet, Free Up Space won't bother with photos you haven't yet backed up to the cloud. It will only attempt to clean up photos you've already stored online in your Google account.
Another new space-saving feature in Google Photos is the downgrade function for photos you uploaded in original quality. To help you recover cloud space, Google Photos gives you the option to compress your photos by downgrading their resolution to high quality (up to 16MP resolution). The result? A smaller file size, and therefore, space savings. And here's an incredible bonus: Photos backed up to the cloud at High Quality resolution won't count against your Google storage quota, giving you practically unlimited storage.
If you've previously uploaded photos at original quality, you can downgrade them to High Quality in one go by visiting the Settings page of Google Photos on the Web. From there, click Recover Storage.
On the same page, you can toggle the High Quality option as the default upload resolution for future backups. If you do, an Assistant card may remind you to delete some of the older photos on your device when its storage runs low.
Lastly, Google has fixed a bug that caused photos stored on SD cards in certain devices to keep appearing in Photos even if the images have already been deleted.
[Image credit: John Elstone / Google+]