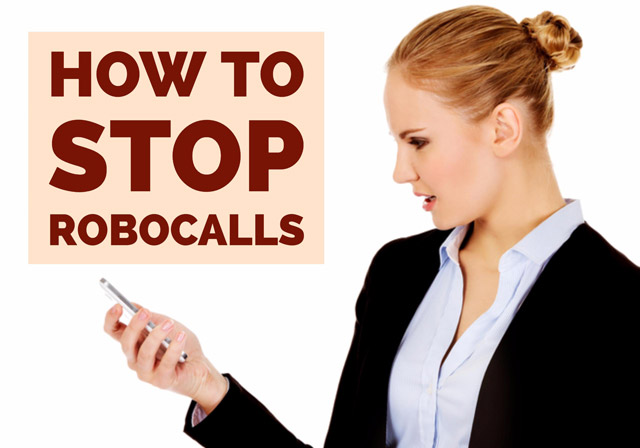 Even if your number is on the FTC's Do Not Call Registry, there's a good chance you still get phone calls from scammers who don't care about the rules. If you're sick of getting automated spam calls, Nomorobo offers a solution for many VoIP lines and iPhones (iOS 10.1 required), with Android support coming soon.
This service, which won an FTC challenge to stop robocalls, monitors your incoming calls, matching numbers to a database of 429,000 spammers. If the number is in Nomorobo's database, the call doesn't go through. This lets automated calls you want — like your child's school calling to announce a snow day — through, while shutting down spammers.
The downside to this kind of blacklist is that the system can potentially miss new spammers, though Nomorobo's database is constantly updating. It also doesn't always recognize calls without caller ID — which are almost never from legitimate sources, but won't match any number on a blacklist. But even so, Nomorobo will block a good number of these junk calls.
How to use Nomorobo on your home phone
The biggest downside of Nomorobo is the fact that it simply isn't supported by all carriers. If you have a traditional landline phone, Nomorobo isn't an option: you need a voice over IP phone (VoIP) from a supported provider (AT&T U-Verse, Charter, Comcast, Frontier, Time Warner, Verizon FiOS, and Vonage, among others). Assuming you have that, setup is relatively straightforward, though the details depend on which type of phone service you have.
Nomorobo for VoIP uses a phone feature called "simultaneous ring" to work. This means that the phone rings both at your home and with Nomorobo, allowing Nomorobo to screen the call for you. Your phone will ring once and, if it's a spammer, Nomorobo hangs up so they don't bother you anymore.
To set up Nomorobo, you'll have to create a Nomorobo account and then go through the instructions to set up simultaneous ring through your provider.
Nomorobo for VoIP is free, so if you're plagued by phone spam, there's no reason not to try it.
How to use Nomorobo on your iPhone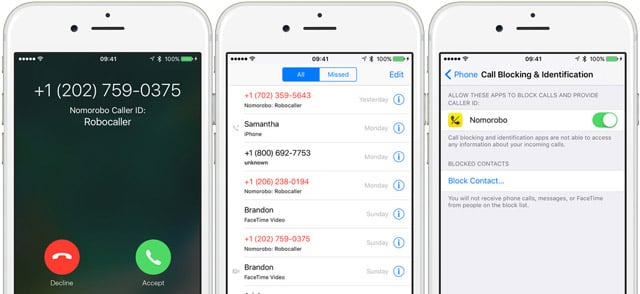 When iOS 10 arrived late last year, it included a new feature: the ability for apps to block phone calls. This is good news for anyone plagued by cell phone spam, and paved the way for the new Nomorobo app.
App setup is more straightforward than home setup. All you have to do is install the app and give it permission to block calls for you. After you've installed the app, just open settings, then select Phone > Call Blocking & Identification and then click the slider to enable Nomorobo. After that, the app goes to work.
This is the first version of the app, and options are pretty sparse. You can chose to have junk calls simply identified as "Robocaller" or send them straight to voicemail from Nomorobo's main screen — there's nothing else to configure.
Unlike the VoIP option, though, Nomorobo for iPhone will cost you $1.99 per month or $19.99 per year for one phone. A family plan that protects up to four phones for $4.99 per month is coming soon. Your first month is free, so you can give it a try without committing — just remember to cancel your subscription before the month is up if you decide you don't like it!
[Image credit: angry woman with phone via Shutterstock, Telephone Science Corporation,