Both the Sony PlayStation 4 and Microsoft Xbox One use up to three times as much electricity annually as the previous generation of gaming consoles, a new report from the non-profit Natural Resources Defense Council (NRDC) warns.
According to the report, the Xbox One uses an average of 300kWh annually (an estimated $65 in NYC; $33 in Texas) and the PlayStation 4 uses 181kWh ($39 in NYC; $20 in Texas). The relatively green Nintendo Wii U console, meanwhile, sips just 37kWh per year ($8 in NYC; $4 in Texas). Electricity estimates are based off of February 1, 2014 data pulled from Wolfram Alpha.
One of the biggest culprits here is the devices' standby modes – times the consoles are drawing power even when you're not using them. The Xbox One, devotes 44% of its total annual energy consumption to waiting for always-on voice commands. The PlayStation 4 uses 32% of its total in standby, providing power to its USB ports even when no peripheral is connected. The report also criticizes the PS4 and Xbox One for using between 30 and 45 times as much electricity to stream a movie than an Apple TV, Google Chromecast or Amazon Fire TV device would.
You don't have to put up with energy vampires in your home to enjoy video gaming, however. The NRDC recommends going into each console's system settings to make sure the automatic power-down feature is enabled after an hour of inactivity. You should also connect your video game systems and home entertainment center to a reliable surge protector with its own dedicated off switch. Flipping that master switch will stop your electronics from drawing power in standby mode – a good idea for when you leave home or simply go to bed.
You can read the full NRDC video game console report on the organization's website (PDF). For other ideas to help keep your electric bills low, check out these gadgets that help you save energy.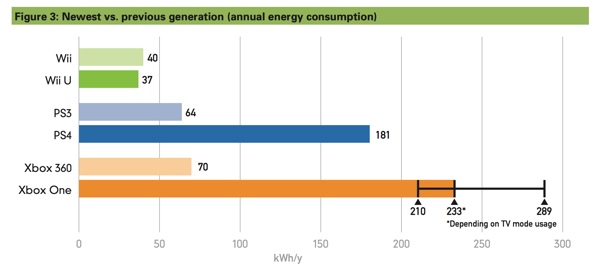 [Annual energy consumption chart via NRDC (PDF)]