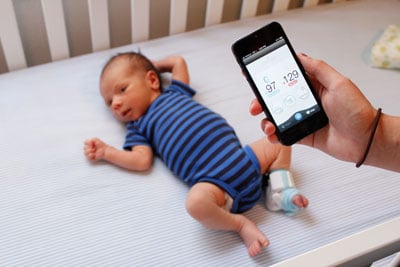 Sudden Infant Death Syndrome (or SIDS) is the leading cause of death of babies aged 1 month to 1 year. It's a terrifying problem where an otherwise healthy seeming baby dies suddenly, usually in the middle of the night. And though medical science has made plenty of advances over the years, SIDS remains terribly unpredictable because it typically afflicts otherwise healthy infants.
Though modern medicine may be lagging on SIDS, modern technology will soon give new mothers both an early warning and a fighting chance. Meet the Owlet, a tiny Bluetooth-enabled activity tracking bracelet that allows you to monitor your baby's breathing and pulse in real time right from your smartphone.
Owlet operates using pulse oximetry, the same "finger method" hospitals use to track vitals. But more than just a heart monitor, Owlet provides temperature information, details about sleeping patterns and even rollover alerts. (Stomach sleeping is a noted SIDS risk factor.) The device is capable of connecting to your Android and iOS smartphones via Bluetooth.
The Owlet has recently smashed through its goals on the Kickstarter website, meaning the device is anticipated to be available by November. If you'd like to get one for yourself or someone you know is expecting, the folks behind Owlet are offering a $159 Early Bird Special on the device on their website. The bracelet comes in your choice of pink or blue.
If you're interested in learning more about the device, you can visit the Owlet website or watch the YouTube video below.