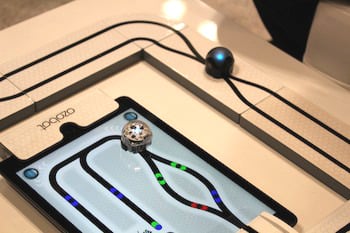 We're used to seeing robots by now with sensors on the bottom that allow them to follow a traced path. It's a pretty basic function — but one thing covering toys will teach you is that the best ideas come out of the simplest concepts. Take the Ozobot, a tiny robot with big potential.
Ozobot essentially does one thing: It follows lines — black lines, red lines, blue lines, green lines. And it knows the difference between these colors. Now take that simple mandate and add one thing more: When Ozobot sees certain combinations of colors (red-black-red, green-blue-green, and so on), it recognizes them as a code that translates into a specific action such as slow down, speed up, turn left or stop. Now we're getting into programming, all from a simple concept.
Another neat feature of the Ozobot is that it happily follows lines on any surface, including the surface of a tablet. If the line starts out on a tablet screen and moves off to a game board, Ozobot will continue to follow. It doesn't discriminate.
Put all this together with the Ozobot's size (barely an inch square), and you have the makings of a smart game piece. The possibilities are almost endless.
Over the next few years, the guts of this tiny robot will probably make it into games you're already familiar with, leading to all new kinds of game play. But if you want to play with it now, you'll get the chance soon. Evolve Inc. plans to launch Ozobot this summer along with a handful of tablet games.
My favorite is a free-form drawing game Ozodraw, which gives kids a peek into very basic programming as they draw paths and codes to control the bot. I also like Ozopath, a new take on maze games for single and multiple players. Evolve is working with other game makers to create more apps for Ozobot, so the little robot will always have a new virtual world to play in.
Evolve hopes to launch Ozobot in the summer, though its Kickstarter backers will probably get theirs a little earlier.
Price: Anticipated at about $55