Call it the buy button. From search giant Google to social networks Twitter and Pinterest, it seems like every major website is tinkering with a new way to sell you merchandise. Rather than just offer ads, the reasoning goes, these websites can get a much bigger cut of the action by processing your payment or even selling you the item directly.
Are "Buy Now" button just a way to get you to make more impulse purchases? Of course – they're designed to eliminate as much friction as possible in the buying process. But that doesn't mean the convenient buttons are inherently evil, especially if you're already looking to make a purchase. Here are some of the most important buy buttons on the web – some available now, some coming very soon.
Purchase with Google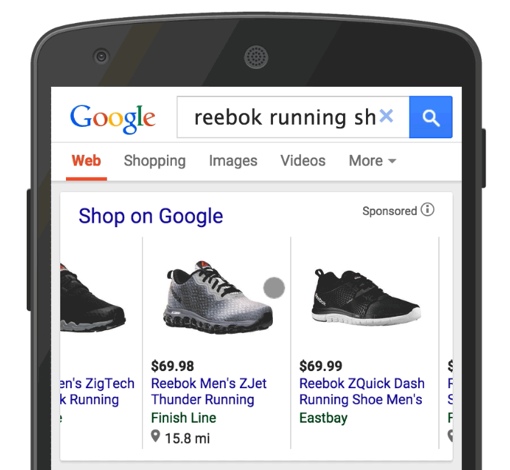 Last week, search giant Google announced the launch of Purchase with Google. The new advertising feature is meant to make Google seem more like a legitimate store.
When you search for an item on Google – say a pair of running shoes – you'll soon see an expandable bar titled "Shop on Google" filled with products relevant to your search. You can browse the selection of shoes on display (offered via stores like Finish Line), tapping to pull up more information about each pair. If and when you find a pair you like, you can then purchase them via Google
Note that you aren't exactly buying the item from Google – another retailer will handle the fulfillment process. Google does, however, handle the actual purchase through its own site. That means it's Google that has and stores your payment information, so you don't have to re-enter your payment information at each of Google's partner retailers individually.
For now, Purchase with Google has only been rolled out to a handful of users on a test basis with roughly a dozen retailers. The company plans a larger U.S. rollout by the end of 2015.
Twitter's "Buy Now" Button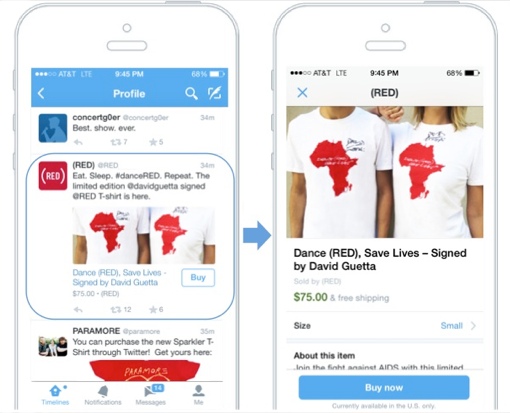 Late last year, Twitter launched a Buy Now button on its social network. The button appears inside select tweets from a limited number retail partners. Tap Buy Now when it appears, and you'll be directed to Twitter's own checkout page. Like Purchase with Google, Twitter handles order taking and payment processing; partner brands handle fulfillment.
At launch, Twitter announced that it was working with a handful of companies, organizations and artists that include Home Depot, The Nature Conservancy and Keith Urban. More brands will be added in the future as the program expands. For more on Twitter's Buy Now button, check out the short promotional video below or visit the official Twitter blog. For more on Twitter itself, check out Techlicious's Twitter 101 primer for beginners.
Buy it on Pinterest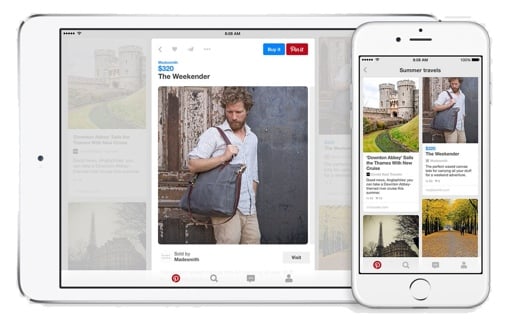 Pinterest is a great go-to site for fashion tips and home décor ideas. Naturally, then, the site is a perfect candidate for a buy button of its own. And indeed, "Buy it on Pinterest" has just launched on the social network.
Certain Pinterest items now feature a blue price, which is your cue that the item can be purchased through the new "Buy it" button. Tap on one of these Pins – say, a fall blazer – and you'll be able to view it in different colors and purchase it through Pinterest. Again, it's Pinterest that handles processing and order taking – it's partner retailers like Macys and Nordstrom that handle fulfillment. Apple iPhone and iPad owners with Touch ID can complete purchases on the Pinterest app with Apple Pay.
Looking for a deal? Pinterest alerts you when one of your Pins goes on sale, so not only is the buying process easy, but you can occasionally sweep up a great deal. And if you're shopping on a budget, you can use Pinterest's filters to only show you items under $100, $50, or any price point you choose. You can search for individual items, categories and browse Pinterest's curated shopping choices.
You can learn more about making purchases on Pinterest by watching the short video below or visiting the Pinterest blog. To learn more about Pinterest itself, check out Techlicious's Pinterest 101 and Pinterest 102 primers.
[Image credits: Google, Twitter, Pinterest]