Everyone wishes they could leave the chore of vacuuming behind, but robot vacuums often just aren't good enough to let you abandon the task completely. Instead, most of these robotic helpers handle keeping the house somewhat tidy in between thorough cleanings — which are still on you.
But iRobot's Roomba cleaning gadgets keep getting smarter… and they may finally be enough to let you retire your vacuum and your mop. That's because the new Roomba s9+ robotic vacuum and Braava jet m6 robotic mop work together to keep every floor in the house perfectly clean, without any — or at least not much — work from you. The latest addition to these robots lets them tackle cleaning jobs together: first the Roomba will vacuum a hard floor, then the Braava will mop.
Even when not used together, these bots can do some serious housework. While smarts have always been the promise of robot vacuums, older models haven't always come through. The Roomba s9+ is a world away from early Roomba models, which found their way around your home by going in a straight line until they bumped into something. Both of these bots scan your home's floor plan to find the most efficient routes through the house. You can tell them which room to clean and they'll head there without further instructions, and the Roomba s9+ detects the type of surface it's on, whether hard floor or carpet, and adjusts its cleaning appropriately.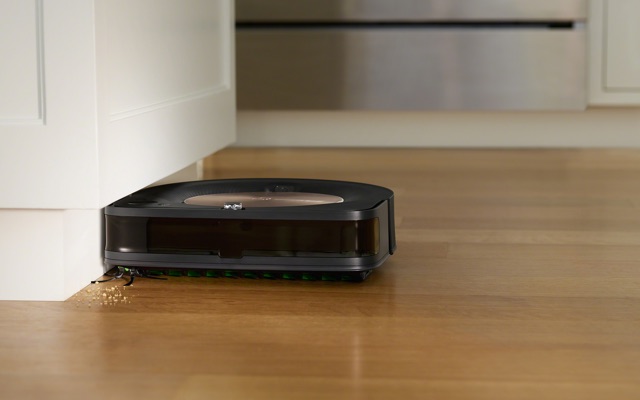 Though the new Roomba and Braava are both great cleaning tools, the Roomba is a particularly big upgrade from the last generation. It has 40X the suction of previous models, and automatically detects what kind of surface it's on so it can increase suction to get every bit of dirt out of carpet. A new square-facing D-shaped design — mimicking competing Neato Botvacs — and specially designed brushes make it better at cleaning corners, which older, circular Roomba always had trouble reaching.
These two bots still require some hands-on work. While the Roomba s9+ empties its bin automatically into its Clean Base, you have to empty its base station about every 30 runs. The Braava is even less automated, because it needs you to change its cleaning pads before it can scrub the floors. Still, that's a lot less effort than pulling out your vacuum and mop — particularly since you can send them off to clean with a voice command to your Alexa or Google Assistant device.
But the bigger problem may be price, because you pay for the smarts in iRobot's best bots. The Roomba s9+ with Clean Base starts at $1,300 or $1,000 without the Clean Base. The Braava jet m6 starts at $500. That's quite an investment in housecleaning, particularly if you want to get both so they can tag-team clean.
So are these brainy bots really worth the investment? The less intelligent Roomba 600 Series starts at $250 (check price on Amazon) and competing Neato Botvacs start at $400 (check price on Amazon)— and both can often be found on sale for even less. If you're willing to accept the fact that these robot vacuums can only supplement — not replace — your current vacuum, a less expensive robot vacuum could serve you well.
Still, the new Roomba s9+ (Price: $2,300, check price on Amazon) and Braava jet m6 (Price: $500, check price on Amazon) are a housecleaner's dream, and they're available now.
[Image credit: iRobot]