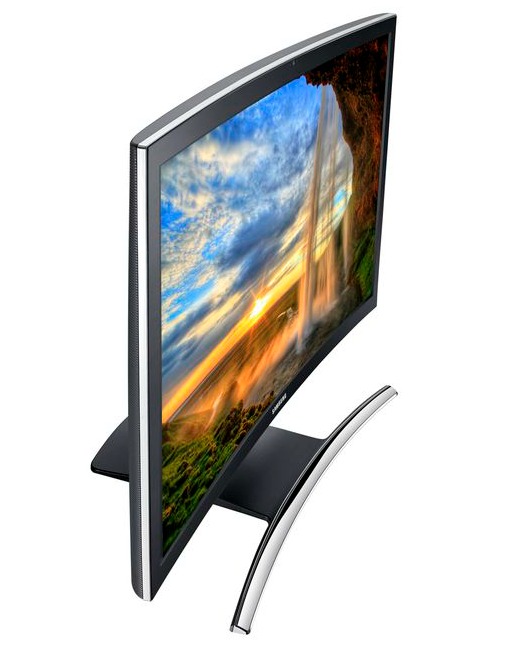 Get ready to get distracted from the competition when the next-generation ATIV Book 9 ultraportable laptop and the new ATIV One 7 Curved all-in-one from Samsung hit store shelves early this year.
Of the two, the ATIV One 7 Curved is likely to cause much more whiplash: It's the first all-in-one to come with a curved display. Yes, the curve trend from TVs is hitting the PC space; at least here, it makes a bit more sense. With an all-in-one, you're right up close to the display, so it's easier for the slight curve to have some effect on how you experience the 27-inch, 1080p display.
The claim is that it makes games and videos feel more immersive. Samsung says that viewing angles will remain wide in case you prefer to kick back on the couch to watch video.
It's not just the display of this device that's curved; the whole body of the all-in-one follows suit, as does the stand. Aesthetically, it's quite a good-looking machine. If you're already down with curved TVs, this device should intrigue you.
As far as hardware goes, the One 7 Curved runs on an Intel Core i5 CPU with 8GB of RAM, integrated graphics and a 1TB hard drive. It includes four USB ports, an HDMI port and a card reader.
Samsung included high-end speakers and audio capabilities to boost the all-in-one's multimedia cred. The embedded speakers offer a surround sound experience, but if you prefer to play music via Bluetooth, you won't lose audio quality. Thanks to APT-X technology, the One 7 Curved can transmit lossless audio. If you'd like to use the One 7 Curved's speakers to play music from your phone or tablet, it also acts as a receiver — even when the computer is turned off.
Another nice feature is a full HD webcam for video chats or recording above-average YouTube videos.
The ATIV One 7 Curved is basically what you'd expect in a reasonably high-end all-in-one, albeit one with a cool design. It seems to be worth the asking price of $1,299, but we'll know more once we get a chance to go hands-on at CES. The biggest question I have so far how upgradeable it will prove to be.
The ATIV Book 9
Curved screens may be livening up the all-in-one category, but laptop lovers will have to suffer with boring old flat displays for now — that and really, really thin and ridiculously light ultraportables.
Samsung's other new release is the ATIV Book 9, a laptop that's clearly in competition with the MacBook Air everything thinks Apple is finalizing right now. Samsung is determined to out-thin, out-Retina and out-design Apple's anticipated product — but what else is new?
The Book 9 series (once called the Series 9) has always been about laptops that Windows lovers would be proud to pull out in coffee shops and study lounges now dominated by silver aluminum and glowing fruit. This new generation certainly has all the key elements: a 2.06-pound weight, 0.46-inch thickness, a sleek, minimal, elegant design and a 12.2-inch display with a pixel-dense 2560 x 1600 resolution.
A comfortable 12.2 inches seems to be a good compromise when it comes to size; 11.6 had seemed a bit too small for some, and 13.3 means a bigger body. With this size, Samsung balances the need for ultraportability with a screen that offers space enough for side-by-side windows.
The screen is meant to be crisp, colorful and bright. It's rated at 350 nits (a measure of brightness) at normal usage, but if you're outside in bright sunlight, it's possible to double the brightness so you can see clearly. (Doing so will of course greatly affect the claimed 10.5-hour battery life.)The Book 9's power longevity is achieved in part thanks to Intel Core M processors, which are supposed to offer powerful performance while remaining efficient enough not to need a fan, ensuring its battery lasts a really long time. The jury is still out on whether the chip lives up to the hype, but the design benefits alone are exciting.
Inside the $1,199 base model is a 128GB SSD and 4GB of RAM plus a few other hardware goodies: two USB 3.0 ports, a mini-HDMI out port, a full-sized SD card slot and a USB Ethernet dongle. A $1,399 256GB, 8GB RAM model of the Book 9 will be available, too.
Beyond its design and powerful innards, Samsung is hyping the Book 9's privacy features. On the cool side: the ability to unlock the computer by tracing a pattern on the touchpad, similar to unlocking a phone. If you're concerned about someone spying on you through the webcam, use the one-touch way to shut down the mic and 720p webcam completely so no one from outside can access them. There's also a button that blurs all or part of the screen when you step away so others can't see what you're doing.
The ATIV Book 9 is one seriously beautiful little laptop, and I'm looking forward to giving it a test at CES. We'll also go hands-on with the ATIV One 7 Curved and the many, many other gadgets Samsung will have on display at its giant booth.
[All images via Samsung]