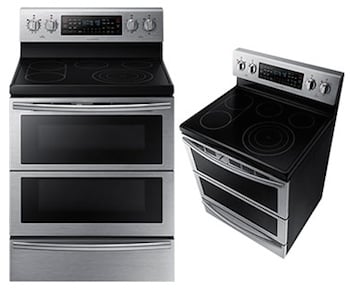 Duo oven cooking ranges suddenly made a lot of sense to me this past holiday, when I was making ribs and had an urge to bake some cookies for dessert at the same time. Unfortunately, I had to abort that plan when I realized the two items can't be in the oven at the same time as they cook at different temperatures, different durations, and have different aromas.
Though ovens with dual doors have been around for several years now, most designs tend to have two separate compartments that you can't resize at whim, often with one section being much smaller than the other. That kind of configuration is fine if you just want to broil a steak in the small oven, or bake two layers of a cake at the same time. But for the occasion that you're cooking a turkey and need all the space you can get, that smaller oven would just be wasted space.
With the new and improved Samsung Flex Duo Oven Range with the Dual Door, you can actually switch between having two ovens or just one large one, thanks to its flexible door design and removable Smart Divider. Unlike the previous version of the Flex Duo Oven with a single door, where every time you want to access one compartment, you end up letting heat escape from both. Though the Smart Divider is designed to keep different cooking temperatures and aromas from mixing between ovens, that alone is not enough to create a flexible oven.
The new Flex Duo's magical Dual Door, on the other hand, makes it possible for the oven to transform: you need to push the button on the handle to open just the small oven, or open the door normally to access the full oven. You also need to remove the Smart Divider to help the Flex Duo Oven Range morph into a single, full-sized oven that can handle the biggest bird you can find.
Beyond the Flex Duo Oven Range's oven shape-shifting capabilities, this 30-inch freestanding range is also smart. It knows whether a dish is going into or out of the oven, and offers suggestions on meal prep based on whatever you're cooking. It doesn't hurt that the range is a looker with a stainless steel finish and clean lines.
Although Samsung didn't reveal its price for the Flex Duo Range at the press conference, this flexible oven is slated to arrive by this Spring. Since the current model retails for about $1600, we expect the new version with the magical Dual Door to cost around the same, if not a bit more for its unique door mechanism. I can't wait to try baking cookies and ribs at the same time in this oven.
[Image credit: Samsung]