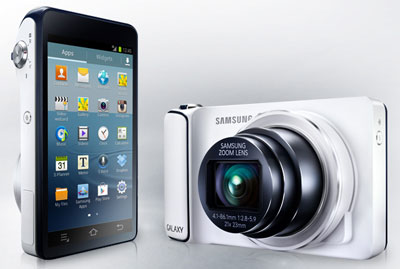 Last night AT&T unveiled the new Samsung Galaxy Camera, the one product that definitely stood out in a sea of yet-to-be released smartphones, tablets and e-readers. So what caught our attention? It was combination of design and functionality. The shape of the Galaxy Camera itself is something unique that I hadn't seen before and the stark white color really popped, it's something that you would definitely notice someone carrying down the street.
What makes it different is that it runs the Android Jelly Bean platform, AT&T's 4G LTE service, and has a lot of functionality that you would find in a smartphone or tablet. The large, nearly 5" touchscreen that takes up a good portion of the back of the camera, was responsive, smooth and fast. Moving from screen to screen and selecting options were effortless.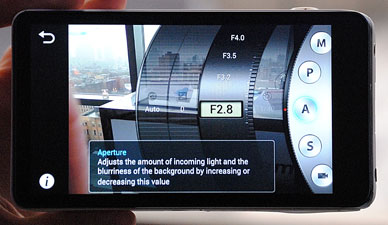 But at a basic level, it's an impressive point-and-shoot camera that allows you to be as amateur or professional as you want. If you're a newbie and want to take great pics, you're set to go with little effort, but switch to Smart Pro Mode and you have an array of options that allows you to apply filters, and if you really want to be a pro, you can fiddle with the beautiful display of concentric circles on one of the advanced screens to adjust everything from the ISO, exposure and shutter speed, pretty slick. Once you're done, you can edit photos right on the camera, upload and share them with friends.
The new Samsung Galaxy Camera coming this fall in time for the holidays is sure to be near the tops of some holiday wish lists. A powerful camera with features usually reserved for cell phones like 4G LTE, the Samsung Galaxy camera will be available through AT&T.