After the relative sales disappointment of the Galaxy S5, thanks largely to the anticipation and delivery of Apple's iPhone 6, Samsung has literally gone back to the drawing board for two new Galaxy S phones – the Galaxy S6 and Note4-like Galaxy S6 Edge, which has a display that curves off the sides. Both were announced today in Barcelona at the Mobile World Congress confab.
All throughout its planetarium-like presentation, Samsung alluded to or directly compared its new Galaxy phones and their features to the company's bête noir, the iPhone 6. And, many of the S6's attributes and features are obvious nods to Apple's latest best-selling handsets.
For one thing, Samsung has followed Apple and HTC and gone metal, eschewing the cheap plastic that housed the company's previous Galaxys, while retaining S5's general aesthetics. Samsung claimed the S6 "will not bend," an allusion to Bendgate, the largely disproved Apple iPhone 6 bending controversy.
3 Ways the Galaxy S6 May Surpass the iPhone 6
Camera: To get a shot of that happening-now event, just double-tap the home key to activate the front camera in .7 seconds.
Samsung also has vastly approved the Galaxy S phones' low-light capabilities with an f1.9 lens, which lets in 60 percent more light, on both the 5 MP front and 16 MP rear cameras. The image sensor on the rear camera also is packed with pixels 43 percent larger than on the S5 to detect more light. Photos and video shot with the iPhone 6 Plus and the S6 were used to illustrate to stark low-light performance differences.

To keep images and video blur-free when either you or the subject moves, the Galaxy S phones now include optical image stabilization and object-tracking autofocus.
Samsung also has redesigned the camera user interface, placing all the popular controls on the screen but hiding more advanced functions in a "professional" mode.
Battery: Samsung has built in wireless charging into both phones, compatible with both competing wireless charging platforms, WPC (Wireless Power Consortium, aka Qi) and PMA (Power Matters Alliance, led by Duracell's PowerMat).
Samsung also has built in quick charging; 10 minutes plugged in provides four hours of "real world" usage, and Samsung claims the S6's 2550 mAh battery and the Edge's 2600 mAh cells fully charge in half the time of Apple's iPhone 6s and 1.5 times faster than the Galaxy S5.
Unlike previous Galaxys, Samsung has now integrated the battery instead of making it removable as in past models. "We didn't want a built-in battery until consumers could feel confident in charging their phones," explained Samsung's VP of product strategy Justin Denison.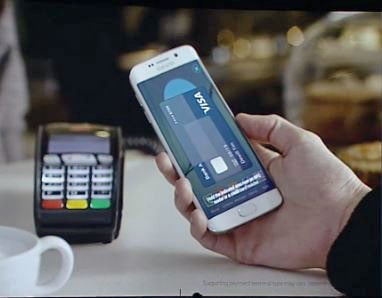 Mobile Payments: Following the highly-publicized launch of Apple Pay, the Galaxys include the Samsung Pay pay-by-phone system.
But instead of Apple's reliance on compatibility with NFC point-of-purchase terminals located at only 10 percent of retailers (according to Samsung), Samsung has made its Pay system compatible with any mag stripe card reader terminal thanks to LoopPay's Magnetic Secure Transmission (MST) technology. You would simply swipe-up from the bottom of the phone's bezel, authenticate with a fingerprint and hold to the mag stripe slider.
Initial financial institutions who have signed on include MasterCard, Visa, American Express, CitiBank, USBank, Bank of America and Chase.
Samsung S6 Specs
Samsung has retained the S5's 5.1-inch display on both the S6 and the S6 Edge, even if the Edge's display appears to be slightly larger.
While their Super AMOLED Gorilla Glass 4-protected display size remains the same, the S6 screen's resolution has been substantially boosted – both are Quad HD: 2560 x 1440 rather than the S5's 1920 x 1080, with 577 pixels per inch vs. 432 on the S5. The iPhone 6 has a 4.7-inch 1334x750 pixel display (326 ppi) and the 5.5-inch 6 Plus has a 1920x1080 display (401 ppi).
With its octa-core 4 x 2.1GHz + 4 x 1.5GHz 64-bit 14nm Samsung Exynos processor and 3 GB of RAM, the S6s promise to run 20 percent faster performance and 35 percent more efficiently than than company's Note4 enterprise phone, "no more lags or stuttering – even the smallest gestures are registered. It's insanely responsive," extolled Samsung's VP of user interface design, Hyun Yeul Lee.
Physically, the S6 measures 143.4mm x 70.5mm x 6.8mm and weighs 138 grams, which makes it a hair taller but less wide and skinnier than the 142 x 72.5 x 8.1 mm Galaxy S5, and even though it's metal, 7 grams lighter. At 142.1mm x 70.1mm x 7.0mm, the Edge is only a bit shorter and thicker than the S6, and surprisingly 6 grams lighter (132 grams).
New Interface Design
Samsung also has simplified its TouchWiz interface, coding apps to colors for easier identification – green is phone, purple video, orange for contacts. Many of the mysterious icons have been replaced by simple text, and many apps include text labels along with icons.
You'll also be able to assign colors to up to five of your contacts; your phone will glow in that assigned color so you know who's calling without picking up the phone. You can also create auto reply messages when you can't answer a call – just swipe on the fingerprint reader when a call comes in that you can't take from an important caller.
Both phones will be available in five shimmering colors: white pearl, black sapphire, gold platinum, blue topaz (Galaxy S6 only) and green emerald (Galaxy S6 edge only).
Pricing and Availability
Both phones will go on sale on April 10; AT&T, Sprint, T-Mobile, U.S. Cellular, Verizon, Samsung Experience Shops at Best Buy, Amazon, Costco, Sam's Club, Target and Walmart will all carry the Galaxy S6 and Galaxy S6 Edge, and Boost Mobile, Cricket and MetroPCS will carry the Galaxy S6. While no pricing was officially announced, hours before the official introduction of the two phones, Samsung's UK Web site accidentally posted the price of the Samsung Galaxy S6 as 699 pounds – that comes out to a whopping $1,080. But, U.S. pricing usually follows European, so expect a $699 price for the 32 GB S6 version, obviously more for the 64 and 128 GB S6 and S6 Edge editions.
[images: Samsung]