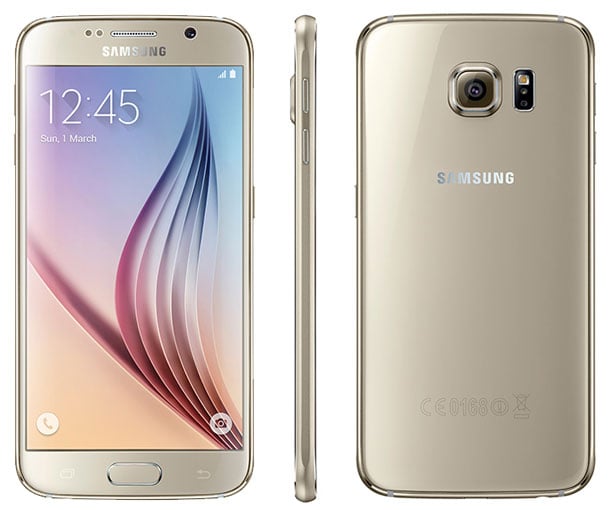 There's a lot of excitement about the forthcoming Samsung Galaxy S6 phone. The early word is that Samsung has learned a lot from the mistakes of its poor-selling, plasticky Galaxy S5. The new Galaxy S6 has better construction with an aluminum frame, a 5.1" quad HD screen, 3GB of RAM, a seriously improved front-facing selfie cam and fast wireless charging. Techlicious's Andrea Smith thought it was a solid Android device when she went hands-on with the device at Mobile World Congress 2015. (Her video is embedded below.)
The phone won't hit store shelves until April 10. That said, if you're itching to get your hands on the new Galaxy S6 or S6 Edge from Samsung, the time is now. Pre-orders for the device start today, March 27, at most U.S. carriers. And as you may expect, there are some pretty good deals to be had. Here's the scoop on where you can pre-order your own Galaxy S6, and how much you can expect to pay.
Sprint
Sprint is offering one of the most interesting deals of the bunch. There, you can get a Samsung Galaxy S6 (32 GB) for free in the form of a $20 per month lease credit. It's being offered as part of Sprint's $80 per month Unlimited Plus plan with unlimited talk, text and data. Families, meanwhile, can lease a set of four of Galaxy S6 devices on a 20 GB shared data plan for $200 per month.
Interested in getting an upgrade over the base model? No problem – you can upgrade to a 64 GB model for an extra $5 per month per line, or a 128 GB model for $10 per month extra. The Samsung Galaxy S6 Edge is also available for a $5 per month upcharge.
You can learn more about this deal and place your pre-order by visiting your local Sprint Store and sprint.com/freegalaxy.
T-Mobile
T-Mobile isn't giving away free phones, but they are giving away a free year of Netflix (2 stream plan) when you pre-order a Samsung Galaxy S6 – an over $100 value. There's a catch however: Only the first 92,000 people to pre-order and register between March 27 and April 12, 2015 will score the deal. The phone itself will cost you $28.33 per month for 24 months with no money down ($679.92 full retail); the S6 Edge is available for $32.49 per month ($779.76 full retail).
You can register to pre-order the Samsung Galaxy S6 at T-Mobile by clicking here. Once you have your new device in hand, visit samsungpromotions.com/Netflix to claim your free year of Netflix.
AT&T
AT&T isn't offering any discounts on the Samsung Galaxy S6 itself – you'll pay $22.84 per month for 30 months with no money down on AT&T Next, or $199 with a standard two-year contract. The S6 Edge, meanwhile, will cost you $27.17 per month for 30 months with no money down, or $299 on two-year contract. But you can get a deal on a neat accessory: If you lease any Samsung phone on Next, AT&T will give you $50 off a Samsung Gear Circle Bluetooth headset (normally $99.99). That deal ends May 11.
You can pre-order the Galaxy S6 by visiting an AT&T Store or at the AT&T website.
Verizon
Verizon customers will definitely be able to pre-order the Galaxy S6, but just not today. Pre-orders at Verizon start on April 1. If you're a Verizon customer, you can expect to pay $24.99 per month for 24 months on Verizon Edge, or $199 on a two-year contract. The Samsung Galaxy S6 Edge is a bit pricier at $29.16 per month on Edge or $299 on a two-year contract.
You can register for updates on pre-orders by visiting the Verizon website.
[Image credit: Samsung]