Samsung today announced the unveiling of two brand new Google Chromebooks with more powerful processors, 8-hour battery life and a sleek new fake-leather construction.
The cool new feature in these highly portable laptops is Samsung's Exynos 5 Octa processor chip design. It splits tasks between larger core processors and smaller core processors where appropriate to conserve battery life. These processors aren't the same ones used in Samsung phones and tablets – the Chromebooks run at higher speeds (1.9 and 2.1GHz) optimized for the larger displays.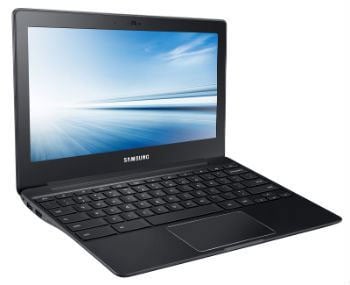 Techlicious's Suzanne Kantra went hands-on with both the 11.6-inch Chromebook and 13.3-inch Chromebook, Samsung's first with a Full HD display, and says the leather cover has a "nice textured feel – not plasticky." And though the underside does feel "slick," Suzanne says these are "nice, higher-class Chromebooks."
The 11.6-inch Samsung Chromebook will be available in black and white with an MSRP of $319.99; the 13.3-inch version will be available in titanium gray and should retail for $399.99. Both are expected to launch this April.