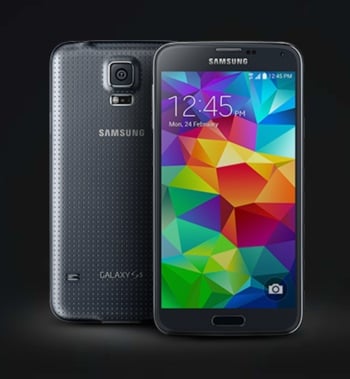 The next, next big thing has arrived. Samsung introduced its new flagship Galaxy S5 smartphone and Galaxy Gear Fit smart watch to the world for the first time today at an event during the Mobile World Congress event in Barcelona, Spain.
Samsung Galaxy S5 smartphone
Like with the transition from the iPhone 5 to the iPhone 5S, the Samsung Galaxy S5 is all about solid, incremental changes. The Super AMOLED Full HD screen has been bumped up to 5.1", and is now a stunning 2560 x 1440. It's better able to adjust brightness for ambient light. It also features a new black-and-white ultralow power saving mode.
The phone's cameras also got a big upgrade, now capable of taking 16MP shots and 4K video. New phase detection technology allows the Galaxy S5 to autofocus in just 0.3 seconds. A new selective focus feature, meanwhile, better isolates the subject in the picture and makes it pop.
The S5 will be the first in the company's Galaxy line to be rated IP67 for dirt and water resistance (immersion for 30 minutes at 1 meter). You can't take it for a swim at the beach, but should you accidentally spill a glass of water of it, your phone will come out fine. Given how finicky phones can be when exposed to water, it's a welcome feature.
The Samsung Galaxy S5 will also have a built-in fingerprint scanner for extra security. It's hardly a make-or-break feature and the iPhone 5S did it first. Again, though, it's a nice addition.
Techlicious's own Suzanne Kantra went hands-on with the device at a Samsung event and liked what she saw. "The new 5.1-inch screen is big, but in this day of giant displays feels pretty good — even in my mid-size female hand," she told me. Suzanne also liked the new Kid Mode parental controls that lock all but the apps you deem kid-friendly.
The Samsung Galaxy S5 will be available at all major U.S. carriers starting April 11. Available colors include white, black, blue and gold. Pricing to be announced.
Samsung Galaxy Gear Fit smart watch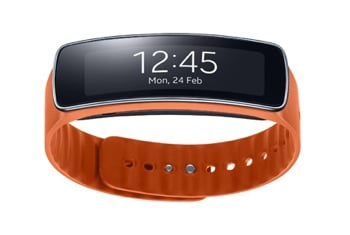 Samsung, at the same event, also introduced its new, slimmer Galaxy Gear Fit smart watch. It features a 1.84" curved Super AMOLED display (432 x 138) and a battery capable of going 3 to 4 days on a charge. Like the larger first-generation Galaxy Gear, the Fit lets you control media, monitor and dismiss calls and respond with canned messages. The Fit also acts as a heart rate monitor, though Suzanne noted that it's "a bit finicky in practice."
Suzanne praised the lightness of the device, noting it "fits better on smaller wrists." She does warn that because the device needs to make contact with your wrist to measure heart rate, "fit may be an issue for smaller women."
The Samsung Galaxy Gear Fit will also be available starting April 11 with your choice of Black, Orange and Mocha Grey changeable straps. Pricing has yet to be announced.