E-readers like the Amazon Kindle revolutionized the way we read books in the twenty-first century. Now, the company's newly launched Send to Kindle button hopes to revolutionize the way we read news in the same way.
The button is a new free service from Amazon. It allows owners of Kindle devices and those using a Kindle reading app access to a wealth of free content across the Internet. If you see an interesting news article or column while at work, just click its Send to Kindle button and the article will be beamed to your favorite e-reader to read later. It's not a huge technological advance, but it does add value to the Kindle experience by offering plenty of free reading material.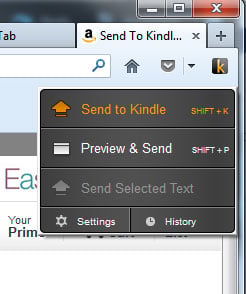 The first time you click the button, you'll be directed to Amazon.com to sign in to your account. You'll need to choose which Kindle device you want the page sent to, but once you do, the device will become your default. This way, future clicks of the Send to Kindle button will deliver pages directly to the device with minimal hassle. And once you've read a story, you can permanently delete it. Amazon won't keep an archived copy to clutter up your digital library.
The Send to Kindle button has already launched on a number of major websites, including Time, The Washington Post, and tech site BoingBoing. And with Amazon offering the button's code to the public, even more sites should follow in the coming weeks. Give it a try, and let us know what you think about the button in the comments below!
UPDATE 3/21/13: We don't have the button active yet on Techlicious, but you can download the Save to Kindle browser plugin for Google Chrome or Firefox to use with any site.