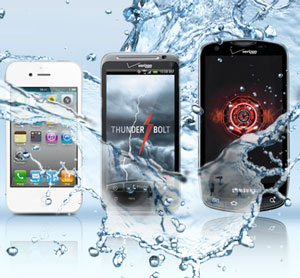 Whoops, you accidentally dropped your iPhone 4 in the toilet again. Too bad there's no app for protecting the device from corrosive, destructive moisture. There is, however, a physical treatment you can give your smartphone that will prevent permanent damage should it get soggy.
California outfit, Liquipel, offers a treatment that they claim will save your drenched device from total ruin. For $59, they'll apply a super-thin, water-repellent nano-coating to your iPhone, Motorola Droid, Samsung Charge or any of a handful of different HTC devices. The treatment is designed to last the lifetime of the device and even penetrates charging ports, earphone jacks and speakers.
The company discourages users from deliberately dousing a treated device (sorry, bar tricks not recommended), and won't assume responsibility for damage to a coated product. They do, however, assure that treated devices can safely be brought into steamy bathrooms, used in the rain, and generally prove impervious to wet conditions that would typically destroy the phone. Liquipel might just make fishing the iPhone out of the commode worthwhile after all.
To preserve your device's warranty, Liquipel says you must register your device with the company.