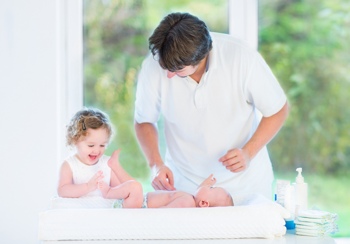 Researchers at the University of Tokyo in Japan have unveiled an organic sensor capable of alerting you when a disposable diaper needs changing, the AFP is reporting.
High-end traditional diapers often contain basic color-change wetness indicators that provide a visual cue whenever baby needs changing. The new sensor is instead a circuit printed on thin, flexible plastic film embedded in the diaper. Rather than contain a battery, the circuit receives its power wirelessly.
Researchers say the circuitry could be printed in disposable diapers for just a few cents each.
Currently, the sensor only works if the receiving device is within a few inches of the diaper. That limits the usefulness of the tech. But researchers are working on reducing power consumption and boosting the tech's range. One day, your smartphone could alert you the moment baby – or an aging parent – needs a fresh pair.
And since the sensors can also detect changes in pressure and temperature, researchers say the tech could provide even more information about baby. Of course, that's not a crazy futuristic application – both the Mimo Onesie and Owlet Baby Monitor currently use wireless sensors to help track babies' well being.
[Dad and daughter changing diaper via Shutterstock]