It's been a rough couple of weeks for popular photo-based chat app Snapchat. First, the network suffered a major hack it was warned against months prior. Now, Snapchat users are suffering a deluge of spam that the company insists is unrelated to the earlier attack.
"We've heard some complaints over the weekend about an increase in Snap Spam on our service," the company explained today on its blog. "We want to apologize for any unwanted Snaps and let you know our team is working on resolving the issue. As far as we know, this is unrelated to the Find Friends issue we experienced over the holidays."
This past holiday season, 4.6 million Snapchat usernames and cell phone numbers were leaked to the public by means of a hacker datadump. The attack occurred via the app's Find Friends option, which lets you search for people you know via their phone number. Frustratingly enough, security experts warned about the potential for exploiting the feature as early as August 2013, and then again just days before it happened.
If the recent increase in spam is bothering you, the good news is that you can put a stop to it with a little effort. Open Snapchat and tap the cogwheel icon in the top righthand corner of your screen to access your Settings. Find the Who Can … Send Me Snaps option, and make sure you change "Everyone" to "My Friends."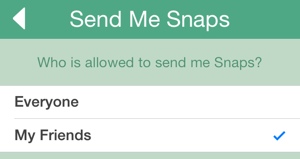 That's not the only new security feature available on Snapchat in the hack aftermath, either: The social network now lets you disassociate your user name from your phone number. New Snapchat users will also be required to verify their phone number before using Find Friends to further cut back on possible attacks. You'll find the option to disassociate your number under Settings by tapping your mobile phone number and then toggling "Link username to mobile #" to off.
Neither setting will erase the damage caused by the earlier Snapchat data leak, but being proactive about your privacy will significantly cut back on unwanted spam on the network. Remember: Whether on Snapchat, Google or Facebook, modern social media is built around an opt-out framework. Your privacy is in your own hands.