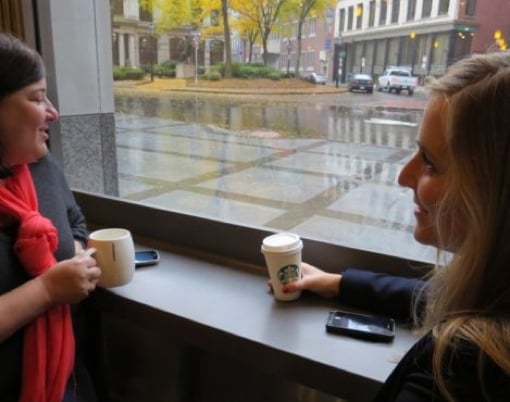 Running low on juice? Now you can recharge both yourself and your smartphone at the nearest Starbucks: The coffee chain announced today that it will begin offering Powermat wireless phone charging spots in all its stores nationwide.
According to the details of the plan, Starbucks is launching the technology today in select stores in Boston and San Jose. The Verge is reporting that the initial focus will be on outfitting stores on the west coast, with the charging tech working its way east by the end of 2015. You can track the ongoing rollout at www.powermat.com/locations.
The circular wireless charging zones use the Power Matters Alliance's Powermat standard, which is incompatible with the Qi charging standard built into the Nexus 5 and a handful of other Android smartphones. Using the charging stations will require you to own a Powermat compatible case or charging receiver – available at the Apple Store and retailers like Amazon.
Naturally, these charging stations won't be able to fully power your phone in the time it takes you to grab a late afternoon latte. Still, if you're starting to get low battery warnings, a quick 15-minute stop could give you just enough power to get you through the rest of the day.