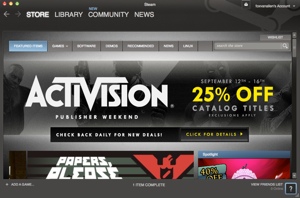 As Barney the Purple Dinosaur taught us, sharing is caring. When it comes to digital video game downloads, though, sharing is usually prohibited thanks to a complicated digital rights management (DRM) structure.
Just in time for Steam's 10th birthday, the online game software marketplace wants to make sharing a great title with a friend or family member just a little bit easier, even if there's no cartridge or disc to hand over. To that end, the company is introducing Steam Family Sharing, a way to share your downloaded game library with a small handful of trusted users.
With Family Sharing, you can authorize up to 10 computers to share your Steam games with. So long as you're not playing a game yourself, any of these authorized machines can access your library. If you try to play while a friend is borrowing one of your titles, Steam will give the second party the option to either save and quit or purchase the game themselves.
I can't even begin to count the number of games I've purchased after borrowing or playing at a friend's house. Kudos to Steam for understanding that sharing doesn't hurt the bottom line – it can actually help it. (Are you listening, Xbox?)
The family-sharing beta will begin this month on an invite-only basis; there's no timetable yet for a full Steam-wide rollout. To request an invite to the beta, you'll need to join the Family Sharing Group on the Steam community. Visit store.steampowered.com/sharing for more details.