Apartment dwellers, rejoice! If you've been wanting to get a robot vacuum but don't have the room for one, the SwitchBot Mini Robot Vacuum K10+ is tailor-made just for you.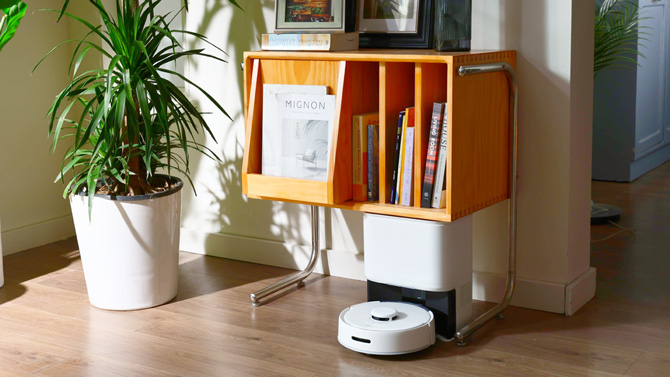 The first thing you'll notice about the Mini K10+ is its compact size; it's a smaller robot vacuum overall, with a diameter of 9.7 inches, compared to 13.7 inches on a traditional robot vacuum like the iRobot Roomba Combo j9+. That means this mini robot can fit in smaller spaces where traditional robot vacuums can't, such as through the legs of dining room chairs, under the couch, or even between furniture.
The robot's self-emptying base also has a smaller profile, so it won't take up as much space in your apartment as the Roborock S8 Pro Ultra or the Ecovacs Deebot X2 Omni. It's slightly wider than the robot itself and stands about a foot high, making it an unobtrusive presence in the room.
Just because the robot's size is mini doesn't mean its features aren't impressive. The base automatically empties and stores the dust and debris from the robot when it's done vacuuming, and the bag can hold up to 70 days of debris before needing to be emptied, depending on how often you run the vacuum.
While the Mini K10+ doesn't have the higher suction power of larger robots like the Deebot X2 Omni, which boasts 8,000Pa, its 2,500Pa suction is sufficient for most cleaning tasks. The device supports four suction levels, is equipped with lidar navigation for precise mapping, and can be controlled via an app or Alexa voice commands.
When it comes to apartment living, higher suction power isn't always a plus. Some robot vacuums are incredibly noisy while they do their work, but the Mini K10+ uses a high-speed brushless motor to help reduce noise while it cleans, bringing the decibel level down to 48dB, about 30% lower than the competition. That's good news for any downstairs neighbors you may have.
There are some trade-offs in getting a smaller, less expensive robot floor cleaner. There's no AI object detection as there is on higher-end robots like the Ecovacs and iRobot. Instead, you'll have to take a few minutes and pick up items like shoes and cords in the apartment before you run the robot vacuum.
However, don't expect the Mini K10+ to take over your floor-mopping duties. Even with more expensive robot floor cleaners, I've found the mopping feature often emulates a damp Swiffer being dragged across the floor. That's pretty much what the mop on the Mini K10+ is. You attach a disposable mop pad to a plate that goes on over the vacuum's roller brushes and remove the plate when you're done. It's fine for a quick floor dusting, but don't count on it for heavy-duty mopping.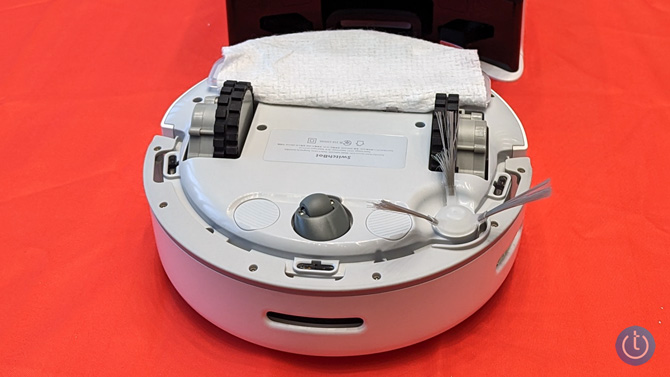 When I saw a demo of the Mini K10+ at the IFA tech show in Berlin in September, I marveled at its small size while it was positioned next to the larger and more feature-rich SwitchBot S10 robot floor cleaner. The great thing about the Mini K10+ is that while it can't perform all the high-end functions of the S10, like obstacle avoidance, its smaller size lets it navigate in tight spaces without getting stuck and needing to be rescued. We'll see how that works when we conduct our full review.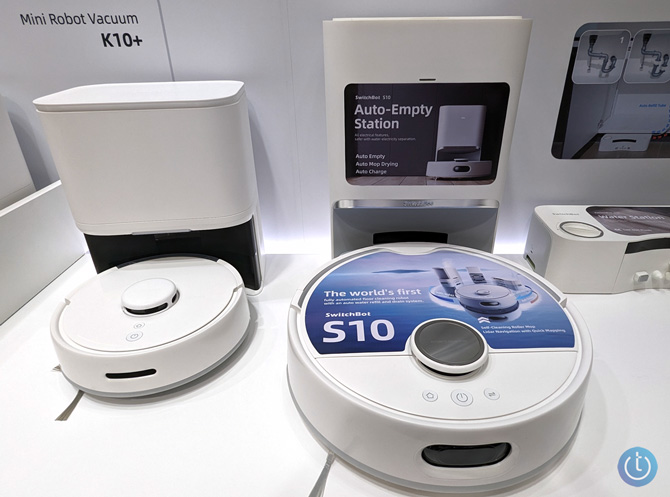 The smaller size also means a smaller price tag. You can get the SwitchBot Mini K10+ for $499 (on sale for $399 at the time of publication), which is a great price compared to the higher-end robots that cost well over $1,000. If you live in an apartment or small home, it's well worth taking a look as a gift to yourself or a loved one.

[Image credit: Andrea Smith/Techlicious, SwitchBot]
Andrea Smith is an award-winning technology broadcast journalist, reporter, and producer. Andrea was the Technology Producer and an on-air Technology contributor at ABC News for over two decades before becoming the Lifestyle Channel Editor at Mashable, where she explored the ways in which real people, not just geeks, began using technology in their everyday lives.