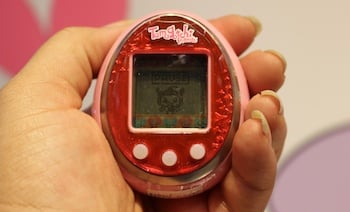 If you're old enough to be the parent of an elementary school-aged kid, you probably remember Tamagotchi from back in the day. The portable digital pets came to America in the late '90s, quickly becoming a popular phenomenon — as well as a headache for parents and teachers. Kids had to feed, clean and play with their Tamagotchi almost constantly or the toy pets would die a digital death. This led to school bans of the toy and situations where parents were left keeping watch over Tamagotchi eggs on behalf of their kids.
That's part of the reason why Tamagotchi soon disappeared from U.S. toy shelves, though the toys remained popular in Japan. Over a decade later, Tamagotchi is returning to our shores, this time with some modifications that will make them less of an annoyance to adults.
Tamagotchi Friends work similarly to the original toys. Kids hatch a pet, feed it, clean it, nurse it when sick, teach it and play with it to get the pet to grow and develop a personality. In this version, kids play games to earn virtual money and buy their pets more stuff.
This time around, the game is a bit more social. If you bump two Tamagotchi eggs together, a pet can hop from one device to another to visit and play with the pet that lives there. Kids can also bump eggs to send text simple messages or virtual gifts to each other. All of these activities earn in-game money.
When kids need to go to school or focus on other activities, they can pause their Tamagotchi to eliminate worries about their pets. If they do neglect their pet, the Tamagotchi won't "die"; instead, it goes to space, leaving a note behind. Less traumatic!
The new Tamagotchi Friends will launch later this year in time for the holidays.
Price: $20 from tamagotchifriends.com