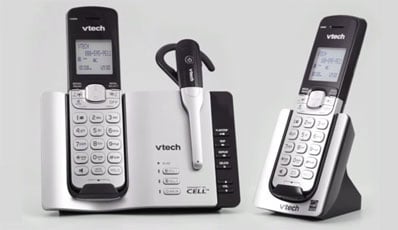 How frustrating is it when you can't get decent cell phone coverage in your own home? The phone works fine in the kitchen, but not your bedroom – you end up with dropped calls and poor sound…grrr. For the conversations that count, a landline is still the best solution.
VTech's Connect to Cell phone system enables you to take mobile phone calls with your home phone for better sound quality and clarity. And, you get the added benefit of using a comfortable handset or headset for mobile calls.
Connect to Cell takes advantage of the zone in the house with the best cellular coverage. Through a simple one-button Bluetooth pairing process, you'll be able to conduct all your calls through the VTech handset or headset, while your cellphone remains connected and charging. See it in action in the video below.