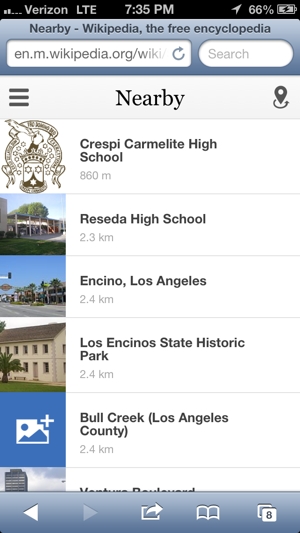 Wikipedia, the world's largest online encyclopedia, wants to help connect you a little bit better with your surroundings. Meet the Nearby tab, a brand new feature that sorts articles on the site according to your current physical location.
Numerous articles on Wikipedia contain geolocation information – that is to say, data on exactly where the subject of the article exists in the real world. Nearby takes this data and gives you a complete list of Wikipedia articles corresponding to locations closest to you. My own personal list includes local high schools, several nearby towns, a state park, and an article on the 1994 Northridge Earthquake that happened 4 kilometers from my current location.
The Nearby feature is a terrific tool for your next road trip. You can use it to quickly see all nearby points of interest and towns and learn more about them. See an unfamiliar building? Not sure what neighborhood you're in? Want to learn more about the history of an attraction? Just visit the Nearby tab, and Wikipedia will clue you in.
You don't need to download any apps to use Nearby – it's already built in to Wikipedia's default mobile site. Just visit wikipedia.com on your mobile device, choose your preferred language, and touch the three parallel lines at the top left of the screen to open the navigation drawer. You'll find the Nearby option in that menu.