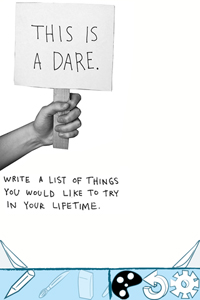 "This is Not an App" turns a touchscreen device into a journal, a dream catcher, a doodle pad or even a thought recorder for users from reading age up. Designed as an interactive adaptation of Keri Smith's thought-provoking "This Is Not a Book," the imagination-driving mobile app is really whatever the user makes it. This app functions like all Smith's books, which encourage the user to scribble, draw, destroy and generally make a mess in the name of creativity.
With 50 different prompts, the app instructs the user to do tasks from writing down their bucket list to recording their day's achievements. Most importantly, while each page offers basic guidelines, there are no rules, so you can make use of the tools—paint brush, pencil, eraser, paint drip, text, camera, etc.—in any way you see fit. And creations can be shared on Twitter, Flickr and Facebook.
If you're looking to "think outside the box," or simply kill a few minutes, the app is $4.99 and worth it. Find it in the iTunes store, Android Marketplace or Barnes and Noble.