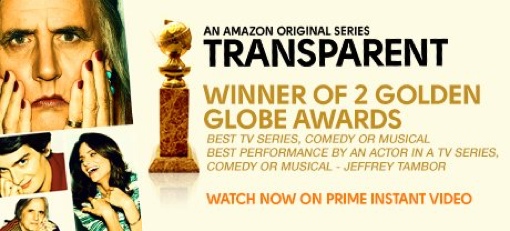 My parents bought their first ever smart TV over the Christmas holiday. It's been quite the culture shock for them – they've never had access to HDTV content before, never mind access to streaming options like Hulu Plus and Netflix. But they've quickly fallen in love with being able to view content on-demand. My father recently viewed his favorite episode of Cheers (the one where Cliff goes on Jeopardy!, of course) for the first time in decades, while my mother and I just finished a binge of The Amazing Race.
Of course, my parents are hardly alone in their love for on-demand TV. The concept is gaining favor on both sides of the screen, including those who actually create content. Case in point: Earlier this month at the Golden Globes, the honors of Best Television Series and Best Actor (Comedy or Musical) went to Transparent, Amazon Studio's made-for-web series starring Jeffrey Tambor. And earlier this week, Amazon Studios announced it has signed Woody Allen to create his first ever TV series, Untitled Woody Allen Project, for streaming on Amazon Instant Video.
"Woody Allen is a visionary creator who has made some of the greatest films of all-time, and it's an honor to be working with him on his first television series," says Roy Price, Vice President of Amazon Studios. "From Annie Hall to Blue Jasmine, Woody has been at the creative forefront of American cinema and we couldn't be more excited to premiere his first TV series exclusively on Prime Instant Video next year."
Sure, there's plenty of great content being aired on live TV. But the concept of television-by-appointment is looking increasingly outdated. Few live TV programs have achieved the level of buzz of award-winning Netflix exclusives Orange is the New Black and House of Cards. Even cancelled TV series like Community and Arrested Development have found new life online thanks to intensely devoted, Internet-connected audiences.
That's not to say there isn't room for live TV. But when so much great content is available for streaming, and when so many people are now clamoring for even more original, award-winning streaming programming, it simply doesn't make sense for the cable TV giants to drag their feet and fight so hard against an inevitable, better future. They still will, of course. But it's their funeral.
[Image credit: Amazon Instant Video]