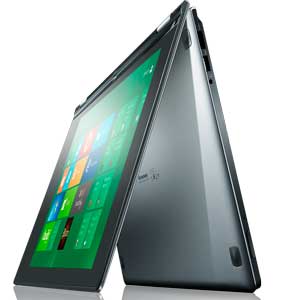 This year, we're going to hear lots of chatter about the Ultrabook format of portable computer. Ultrabooks are, in short, a super thin and very light format of laptops introduced by chip-maker, Intel, who hope to reinvigorate the PC market against the onslaught of tablet computers powered by rival processors. But if you can meld the lightness and functionality of an ultrabook with the intuitive and fun interface of a tablet, that would be great, too. That's what Lenovo is going for with the IdeaPad YOGA Notebook.
The device is what Lenovo calls a "convertible notebook," and it's designed to be used in four different ways: as a full-sized notebook, a tablet, a "stand," and "tent." The 360 degree, dual-hinged screen can swivel to face backwards or forwards, and close shut with the screen facing in (towards the keyboard), or out, for tablet use. Weighing in a 3.1 lbs, YOGA features a 13.1" HD+ ((1600 x 900) screen, with capacitive touch. You can use it for games, reading, browsing the web, or watching video. Its powered by the Intel Core Processor family, with a Windows 8 operation system and supports eight hours of battery life with 8GB RAM and 256 SSD.
Travelers will be especially taken with the YOGA and the potential to view movies and play Angry Birds HD or crank out Excel docs on one machine. You'll be able to buy it in the second half of 2012 starting at $1,199.