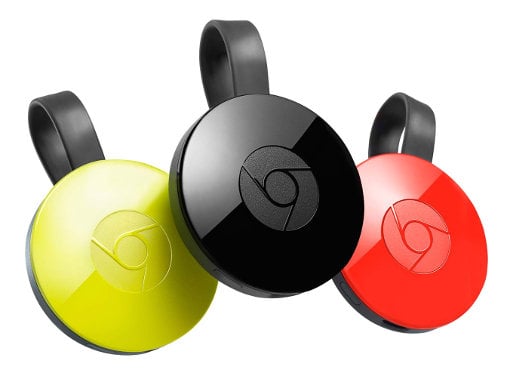 If you haven't tried paying for your purchases yet with the contactless payment app Android Pay, you have a great reason to try right now. As part of its Android Pay loyalty program, Google is giving away a free Google Chromecast video-streaming dongle to anyone who uses Android Pay ten times before the end of February.
To get in on the promotion, called Tap10, install the Android Pay app on your device. The Tap10 offer is provided in the app and will show up as a card on the cards list. Tap on the card to open the Tap10 page for more details.
Your goal is to make at least 10 purchases through the app before the end of February. Don't make the transactions in quick succession; wait at least five minutes in between transactions. As long as you follow those guidelines, you'll receive a redemption code after your tenth purchase to claim your free Chromecast through the Google Store.
While you're on the way toward your 10-purchase goal, you'll also earn three free songs from Google Play. You'll get your first freebie after you make your first successful payment and your second free song after your second payment, but you'll need to wait for your sixth payment to get your third free song.
Not everyone has received the Tap10 offer through their Android Pay apps yet, probably because Google is rolling out the promo within app updates. Make sure you see the promo offer in the app before you begin your race towards your 10th purchase. You must complete your 10th purchase before the promotion period ends Feb. 29.
See our full review of the Google Chromecast to find out how it can up your TV streaming game.
[Image credit: Google]