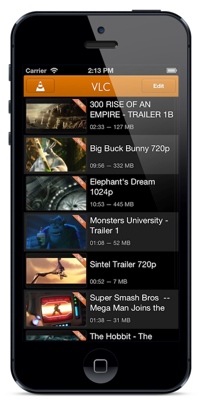 Apple is brutally aggressive when it comes to deciding what videos you can watch on your iPhone and iPad devices. Sure, Hulu and Netflix stream just fine over their respective apps, but if you try to watch a video you've downloaded to a PC, you're likely to run into a brick wall. Part of the problem is piracy – Apple has a vested interest in selling you TV shows and movies via iTunes, so they make it difficult to watch video any other way. The other half of the problem is file formatting: There are just too many competing standards and file types out there.
Thankfully, there's a free media player that actually lets you watch any type of video file you'd like on your iPhone or iPad device. It's called VLC Media Player 2.0, and after a two-year licensing dispute, Apple has finally given the app the okay to be offered on the App Store.
VLC Media Player comes with a number of great features beyond the simple (and much needed) ability to any format of video file. It supports 5.1 audio and subtitles, as well as AirPlay integration so you can watch movies on your television. Cooler still, the app lets you access your Dropbox contents so you can stream movies directly from the cloud.
If you've ever expressed frustration that your Apple phone or tablet can't play certain videos, VLC Media Player is a must-download. The open source, non-profit app is a free download on the Apple App Store.