You've heard all the hoopla about the Apple Watch. The question is, do you need one? Your decision depends on how annoying you find having to fish your phone out of your pocket or bag each time you want to check the time, answer a call or text or email, control your music, make sure you know where your next appointment is, look at a photo or pay for something at the store.
Apple believes the convenience of simply twisting or touching your wrist to accomplish the usual smartphone functions is the reason you'll spend $349 to more than $10,000 for an Apple Watch, which was finally and officially unveiled in San Francisco earlier today. You'll be able to try one on in a store and pre-order your Watch starting April 10, and you'll be able to slip your own Apple Watch onto your wrist on April 24.
Available in April
As expected, the Apple Watch will be available in three models.
The Apple Watch Sport is made with an anodized aluminum-magnesium-zinc alloy enclosure and a new lighter and more durable type of glass screen. This model will be available in silver or space gray with bands made from synthetic rubber in your choice of five colors. The Watch Sport will be priced at $349 for the squarish version with a 38mm screen or $399 for the model with an oblong 42mm face.
The Apple Watch is encased in a proprietary stainless steel case in either stainless finish or black, with a sapphire glass display screen. It's available with your choice of three leather straps, a stainless steel link bracelet and Milanese loop (metal mesh), or a black or white Sport Band (like the Watch Sport). The 38 mm Apple Watch is priced at $549 to $1,049 depending on your choice of band, while the 42mm model ranges from $599 to $1,099.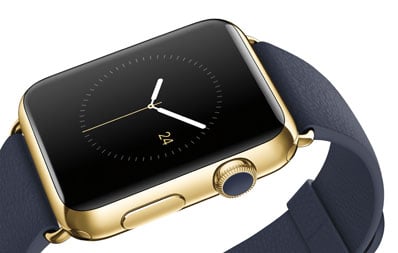 The Apple Watch Edition features solid 18-karat gold alloy cases designed to be twice as hard as standard gold. The cases come in custom rose or yellow with sapphire glass screens and a variety of straps and bands and 18-karat gold clasps, buckles or pins. Prices start at $10,000.
All Apple Watches come with a Retina touchscreen, heart rate monitor on the rear, Wi-Fi, Bluetooth and haptic feedback and alert notifications. The Watch connects wirelessly to your iPhone via Wi-Fi or Bluetooth, all configurable from the Apple Watch app that comes with iOS 8.2, available now.
Thousands of Watch-specific apps will be available at launch, such as an American Airlines app that lets you check in and board your flight using your Watch, an Uber app to order a car from your wrist, an Alarm.com app that controls doors remotely, an MLB.com app for checking baseball scores and apps for Twitter, OpenTable and many more.
Perhaps the Apple Watch's most important make-it-or-break-it attribute is battery life. You will have to charge your Watch every night, which could be a deal-breaker. Apple says the Watch will sustain 18 hours of "normal" usage, or what Apple calls "all-day" battery life.
[Image credits: Apple]