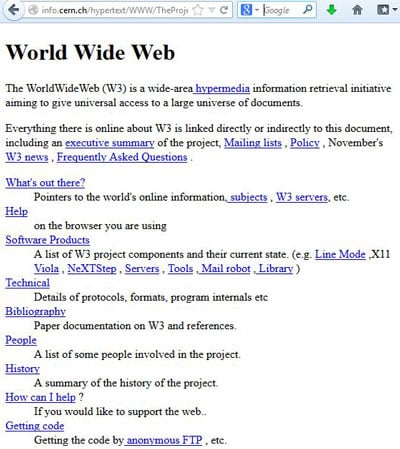 Content on the Internet is ephemeral. A website can be online one minute, and taken down the next. As permanent as we think our Internet footprints are, the Web is perpetually changing. Much of the early Internet has been lost.
One very important webpage, however, has been rescued from history. Yesterday, European particle physics laboratory CERN returned the first ever Internet website to its rightful place on the Web.
Originally created by CERN in 1992, the world's first website invokes a time long past when pages were just plain text on a white background. There are no advertisements, no pictures, and certainly no video. It's an entirely utilitarian site rendered in Times New Roman, the most default of fonts.
The meat of the site is absolutely appropriate for its time period. Primarily, it exists to offer information about the World Wide Web. There are also links to the latest browsers that you've never heard of, the full text of The Bible, a Campaign 1992 archive, and US weather by state.
My own favorite part of the site is the "How can I help?" section, showing how you can get involved in building the Internet by supplying data or programming muscle. After all, Amazon.com isn't going to build itself.
Check out this video on the Internet from 1993 as well.