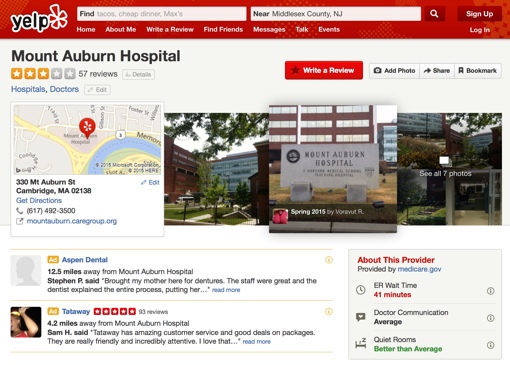 Local ratings site Yelp isn't just for stores and restaurants – it has listings and reviews for professionals and hospitals in your area. Now, those hospital pages have added data about ER wait times, doctor communication and patient room loudness. Nursing home pages, meanwhile, contain information about fines paid to the federal government and whether inspections have shown "serious deficiencies" within the last 3 years. There's new data about dialysis clinics too – great information for those with kidney problems.
The data is being provided to Yelp via the non-profit ProPublica, which in turn is getting much of its data from medicare.gov. Data is color coded (green is good), and you can pull up additional information by hovering your mouse cursor over the information icon. In total, Yelp now has information on 4,600 hospitals, 15,000 nursing homes, and 6,300 dialysis clinics in the U.S., all of which will be updated on a quarterly basis. This is offered in addition to the usual star rating system and user reviews.
According to Yelp, healthcare organizations now make up 6 percent of reviewed businesses. "We're taking data that might otherwise live in some government PDF that's hard to find and we're putting it in a context where it makes sense for people who may be in the middle of making critical decisions," says Yelp VP for Policy Luther Lowe.
It's important to remember here that the ER wait times listed in Yelp are averages, and not real-time estimates. Still, the data makes it easy to compare hospitals and other health care facilities in your area – good information to have the next time your family has a minor emergency. (Just be sure you read our primer on how to tell if a Yelp review is fake, first!)
[Image credit: Yelp]