8 Stocking Stuffers Under $30
Techlicious editors independently review products. To help support our mission, we may earn affiliate commissions from links contained on this page.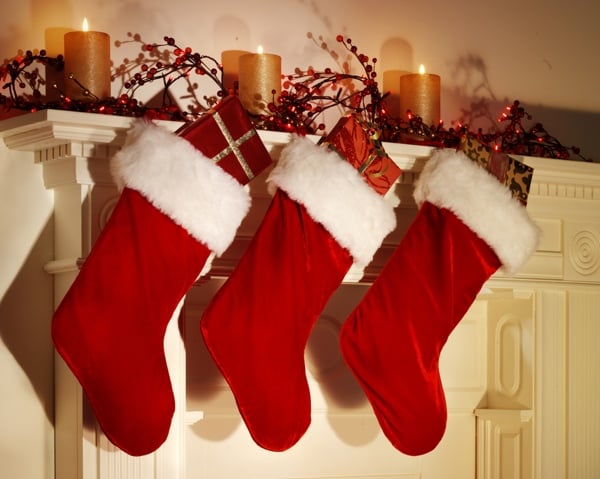 Now that the holidays are here, stockings around the world are being hung by chimneys with care. Fortunately, neither you nor St. Nick need to bust your budget stuffing them full of cool tech gifts. Here are some of our favorite, small gift items that can be had for under $30.
---
Speck CandyShell Case
A quality smartphone case always makes a great stocking stuffer, especially if there's a new phone hiding somewhere under the tree. We like the Speck CandyShell Grip Case – it's attractive, available in a wide range of colors and protects like a champ. It even has rubberized covers for your phone buttons, and a raised bezel to help protect your screen. Versions are available for the iPhone 5 and 5S, iPhone 6, Galaxy S5 and HTC One M8.
Price: Varies by phone. Starts at $15 at Amazon.com.
---
Headphone Wrap
If that special someone on your list loves to hit the gym, chances are they spend a few minutes every day struggling to untangle a pair of headphones. Make messy wires a thing of the past with a cord wrap. We like the inexpensive Gwee Sport Guppy magnetic cord wrap at Amazon – it comes in a wide range of colors, and the interior is made of antibacterial microfiber to keep it from getting too funky.
Price: $12.99 at Amazon.com
---
Kitchen Tablet Mount
The Aduro U-Grip Fridge Mount is an unusual but useful accessory for tablet owners. It contains powerful built-in magnets to mount your tab to your kitchen refrigerator – a great way to stay entertained or read recipes while working on dinner. Or, you can use a set of screws (not included) to permanently affix the tablet mount anywhere you want it. Best of all, the stand itself is expandable, so it'll work with iPad and Android tablets of various sizes, including the new iPad Air 2.
Price: $22.99 at Amazon.com
---
Texting Gloves
Don't let a cold winter's day stand between your family's new touchscreen tech gifts. If there's a smartphone under the tree, consider putting a pair of Echo Design Women's Texting gloves. The soft 50% lycra, 50% acrylic blend keeps hands warm without getting in the way of using a touchscreen. You can take your pick of five different colors; if none of them work, be sure to check the other similarly priced touchscreen-enabled gloves that are available.
Price: $27.98 at Amazon.com
---
Smartphone Lens Kit
Have an amateur smartphone photographer in your life? Check out the aluminum CamKix 3-in-1 Lens Kit. The inexpensive wide angle, fisheye and macro lens set clips on to any smartphone or tablet to give its pictures an artistic kick. The set includes a microfiber pouch for storage and lens caps to keep everything safe when not in use.
Price: $19.99 at Amazon.com
---
Mini Portable Battery Charger
Many of this year's top tech gifts come with a battery. Keep them all fully powered by also gifting a simple battery charger like the lipstick-sized Anker Astro Mini Portable External Battery Charger. The compact device stores up to 3200mAh of juice (after 4 hours of charging), enough to fully recharge most smartphones when connected by USB.
Price: $19.99 at Amazon.com
---
iBeacon Key Tag
LassoTag's iBeacon key tag seeks to make lost keychains a thing of the past. First, you attach a water resistant LassoTag to your keys. Then, when your keychain disappears, use the free iOS LassoTag app to get hot and cold search clues and track it down. You can also configure notifications if your phone and keys get separated by more than 50 feet.
Price: $19.99 at Amazon.com
---
Pivotal Activity Tracker
Activity trackers are very popular as gifts this holiday season, but they also tend to be quite expensive. Not so with the Pivotal Tracker 1 Activity and Sleep Monitor. The $15 wrist-worn device tracks the fitness and sleep basics – steps taken, distance, calories burned and more. Your $15 gets you both the tracker and a year's subscription to the tracking service; to use the device into 2016, the recipient will need to re-subscribe.
Note: The Tracker 1's launch date has been pushed back to December 20, 2014. As such, it may not arrive in time for Christmas. If that date is a bit too close for comfort, check out these other great activity monitors available for $50 or less.
Price: $15 at Amazon.com
[Stockings hung on mantle via Shutterstock]
Discussion