We may earn commissions when you buy from links on our site. Why you can trust us.

The Best Blue Light Glasses
Many eye doctors now recommend blue light glasses to college students and people who work on computers. You can get relatively inexpensive non-prescription computer glasses which block varying amounts of blue light or you can get your prescription glasses made with an added blue light filter.
In my quest for the best blue light glasses, I tried a variety of popular blue light glasses [See image at top: Clockwise from the front: Gunnar, ThinOptics, Real Shades, Felix Gray, and Zenni.], which range in price, vision strength, and style. I found you don't have to spend a lot of money to get good protection, but you do need to spend time and effort finding the right frame for you, which can get complicated if you also need a prescription lens.
The most important things in picking the best blue light glasses are blue-light blocking options, build quality, the price and how easy/difficult it is to get a pair of prescription glasses made. And, of course, they have to be avilable in stylish options that look good.
After ordering and testing glasses from the top blue-light glasses providers, Gunnar, Zenni, Felix Gray, ThinOptics and Real Shades, I found Gunnar delivers the best blue light glasses. Overall, Gunnar offers the best mix of frame and lens options, makes it easy to virtually try on the frames, and delivers well-designed, sturdy glasses I'm comfortable wearing all day. They do a great job reducing digital eye strain, and I now use them when working at my computer as well as reading my tablet at night.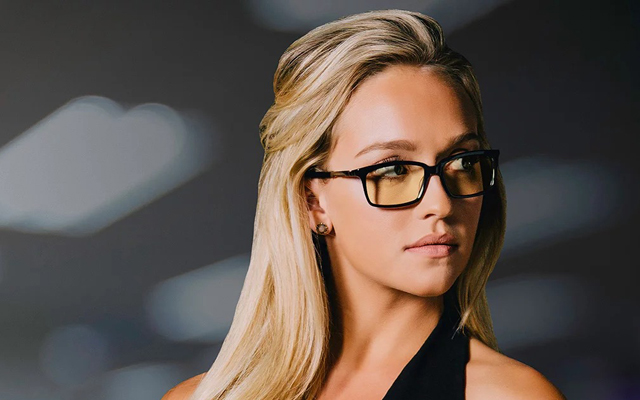 The Best Blue Light Glasses: Gunnar

For the record, I typed this while wearing Gunnar's amber-tinted Havoc computer glasses. The first time I saw them, I was worried the amber tint would be distracting both to me and others talking to me. However, after a few hours of wearing them and working on my computer, they seemed very natural. In fact, when I took them off the white/blue light from the computer screen was a slight shock to my eyes. It felt like I had been sitting in a quiet, calm room, and suddenly, someone came in and turned on the lights. The warm amber tint evokes a calming mood, though if you're in the graphics design business and need accurate color, the slight tint could be an issue for you.
Gunnar makes a wide variety of blue light glasses for different types of use. You can get glasses for videogaming, readers, or a prescription/computer lens and choose how much blue light you want to be filtered by the lens.
Gunnar does the best job of explaining the lens options available for blue light protection. They took a cue from the sunscreen industry and use something they call the Blue Light Protection Factor (BLPF). It's basically the vision equivalent of SPF in sunscreen. Most frames come in two lens options; Amber, which has a BLPF of 65, so it filters out 65 percent of the blue light, and Clear, which filters out 35 percent (BLPF of 35). There's also Amber Max, the newest lens, which filters out 98 percent (BLPF of 98). Some styles come with a transitions lens option, which turns them into sunglasses outside. Not all frames offer each type of lens.
Gunnar's proprietary lens technology helps you see a little clearer as well. The lenses have a slight magnification designed to reduce muscle strain and enhance focus at a close distance. The magnification is minimal, and I didn't notice it since I wear prescription lenses, but I asked someone who doesn't wear glasses to try them out. They noticed a slight difference but quickly got used to it and found it helped reduce eye fatigue. There's also a slight curve to the lens that limits air currents which helps prevent dry eye.
In terms of style, Gunnar offers a variety of frames with flattering shapes and different sizes. Their color selection could be improved (there was no purple) but they are adding more styles and colors, and I found two frames – one in tortoise and one in maroon -- that are flattering and fit my face.
Virtual Try-On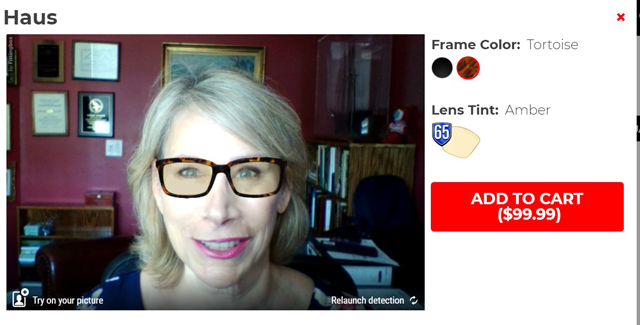 Fitting my face was both the hardest and most fun part of the ordering process. I'm one of those people who needs to go to the store, try on a bunch of glasses and ask other people what they think. I don't think I could have ordered these online without the help of Gunnar's Virtual Try-On tool. It uses your computer's camera and superimposes the glasses onto your face so you can try on different frames and change their color, as well as change the lens color. It's easy to get the right frame for your face.
Ordering
The website is easy to use and intuitive. Shopping is broken down into sections, so if you need readers, you can see all the frames that come in reader strengths (ranges from +1.00 to +3.00). I wanted a computer lens, so once I chose my frame and lens Blue Light Protection Factor, I uploaded my prescription along with the name and number of my eye doctor. I much preferred this method over entering it on my own, as I had to do on other sites. There's less room for error, and presumably, the lab can call your doctor if they have questions.
I really liked how much information Gunnar includes on each page. It shows the lens width, frame width, nose bridge, weight, and more so you can compare them to glasses you already own and the frames you're considering. That helped me narrow down the options before I began trying on.
Design
Gunnars are made with flexible stainless-steel temples, so they're easy to adjust to find a position that sits comfortably on your face. Other brands use rigid, plastic that is difficult to manipulate. Gunnars also have adjustable silicone nose pads to customize the fit further; something others don't always have. The front of the frame is acetate and shows the colors well if you've chosen something other than black. All Gunnar Glasses have anti-reflective coatings on the front and back of the lenses to help reduce glare.
Blue-light blocking: 35% to 98%
Specialty types: computer, readers, sunglasses
Prescription: Yes, including progressive lenses
Case: Hard case lined in felt and comes with a soft bag to carry glasses
Price: ranges from $59 for a frame with basic computer lens and can go up to $299 for full prescription lenses on Gunnar, check price on Amazon
Returns: Full purchase price refunded on non-Rx orders within 30 days. The Rx warranty covers a one-time change of Rx by the Doctor or a change of frame within 120 days from the date of purchase.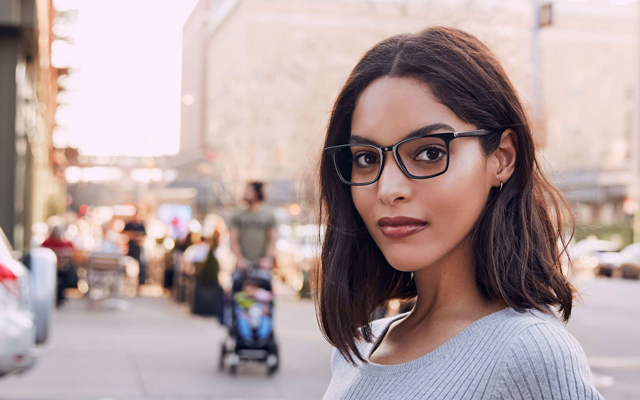 For Stylish Glasses: Felix Gray
If you want a pair of well-priced blue light glasses that don't look like blue light glasses, try out Felix Gray's selection. Felix Gray's blue light blocking is embedded in their lenses and the tint is so subtle you can barely see it, unlike the usual amber-toned glasses.
Felix Gray glasses come in "optical" and "sleep" versions. Optical is intended for daytime wear and computer use, and sleep is for the evening and before bed. I tried them both; the optical has virtually no tint, and the sleep lens has just the slightest yellow tint to it.
Because they call them optical and sleep, I found it confusing to figure out how much blue light they're actually blocking. The company says they filter 50 percent of all blue light and the sleep version block 60 percent. I prefer having that subtle filter like the Gunnar glasses have that takes the light and glare down a notch. Others might prefer the barely discernable tint in the Felix Gray lens that disguises the fact that they're blue light glasses.
There's a small but stylish selection of frames to choose from, and they each come in a variety of colors. A "Fit Guide" explains sizing and recommends frames for different face shapes, but there's no virtual try-on which made it very difficult for me to choose a frame. I want to see the frames on my face, not a model's.
The glasses are made of Italian acetate and feel sturdy, though a little stiff and hard to customize, and the nose pad is rigid. The company tells me a gentle bending of the arm should help create a better fit. With all glasses you purchase online, you'll have to make the final fit adjustments yourself, not many opticians want to risk breaking a frame they didn't sell. I asked two different opticians, and both told me they couldn't help me.
The glasses are priced well, with stylish frames starting at $99 and come in readers, single vision prescription lenses and sunglasses.
Blue-light blocking: 50% - 60%
Specialty types: Readers, sunglasses, kids sizes
Prescription: Single lens
Case: Well designed and protects from damage
Price: Starting at $95 on ShopFelixGray
Returns: Free shipping, returns, and exchanges within 30 days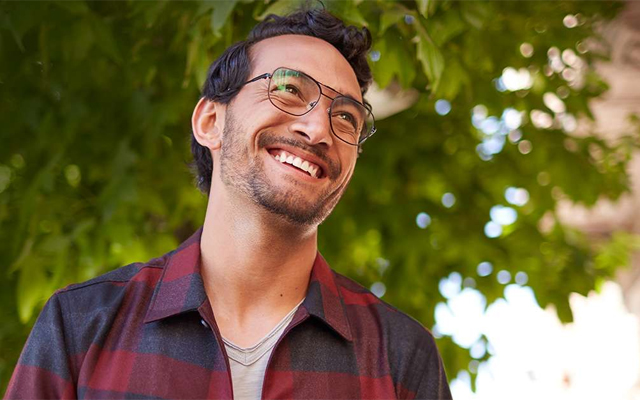 For Inexpensive Frames: Blokz by Zenni
If you're looking to check out blue light glasses to see if they're right for you, start with Blokz by Zenni. They're relatively inexpensive, are easy to order, and come in a huge variety of styles. While their virtual try on feature wasn't working for me (or for customer support), they do have a way for you to see the glasses on your face as opposed to a variety of model's faces. You'll need to enter your pupillary distance (you need this for ordering glasses on any site) and then upload your picture to the Frame Fit tool and click on different frames to try on. While it's not as perfect a fit as the Gunner try-on tool, it helps to see them on your face before making your final selection. To make the browsing experience easier, you can save frames you like as a favorite, so you don't have to go sorting through all the styles each time you want to try them on again.
Zenni's Blokz blue light glasses use a similar type of embedding technology as Felix Gray to prevent blue light from passing through the lens. The lenses are virtually clear and come with a standard, anti-reflective coating like the others. They look great, and the prescription I ordered came very close to my much more expensive glasses.
I really like the wide selection of frame styles and colors (yes, even purple) available and the ease of use of the website. All the information you need is on the frame page -- size range, prescription range, whether you can get them in a progressive or bifocal lens and materials used to make the frames.
Zenni's prices are great, with lightweight, chic-looking glasses starting at under $20. However, you get what you pay for. The glasses are stiff and difficult to manipulate, with rigid nose pads. They squeak when I move them, making me afraid of breaking them. There is also an online guide to adjusting them that involves running them under warm water, which does seem to help a bit.
The case they arrived in is plastic and doesn't always stay shut. However, Zenni tells me they're moving towards a softer, lined case.
If you want to try a good-looking pair of blue light glasses without spending designer eyewear prices, this is the place to start.
Blue-light blocking: 100% of blue light up to 413 nanometers and between 80-95% up to 420 nanometers
Specialty types: sunglasses, kids frames
Prescription: Yes; single lens, progressive and bifocal
Case: Cheap plastic, but phasing in a softer, lined case in the coming months
Price: starting at $16.95 on Zenni, check price on Amazon
Returns: Within 30 days of purchase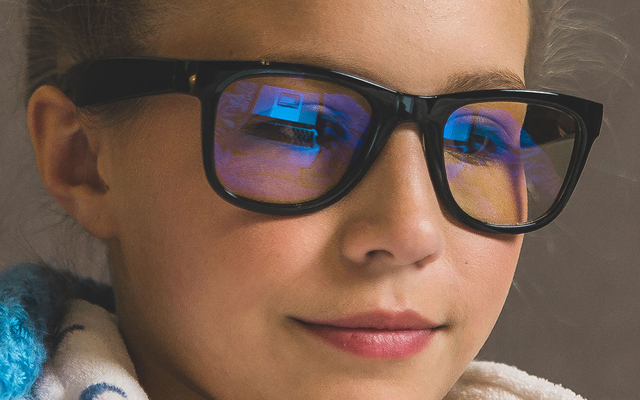 For Kids Glasses: Real Shades Screen Shades
Although the blue light emitted by smartphones, laptops and other devices doesn't damage retinas, it can impact children's health, according to the American Optometric Association [PDF]. Headaches, poor sleep quality, and dry eye are just a few of the potential side effects.
If you're looking for a way to protect those developing eyes from digital eye strain, check out Real Shades Screen Shades. They're available in toddler and youth sizes; yes, they're designed for kids as young as two years old and come in six fun, bright colors, including teal, neon pink, and orange.
Real Shades claims its lenses block 65 percent of the blue light emitted from the screen and are built for the rough and tough life of a kid. They're made of shatterproof polycarbonate frames and, according to the company, are flexible and unbreakable. I tried bending them and they were pretty malleable; so go ahead, drop them into the bottom of the bag or even sit on them.
Blue-light blocking: 65%
Specialty types: toddler, kid, youth sizes and adults
Prescription: No
Case: None. It comes with a microfiber bag for the glasses
Price: Starting at $25 on RealKidsShades, check price on Amazon
Returns: Within 30 days of purchase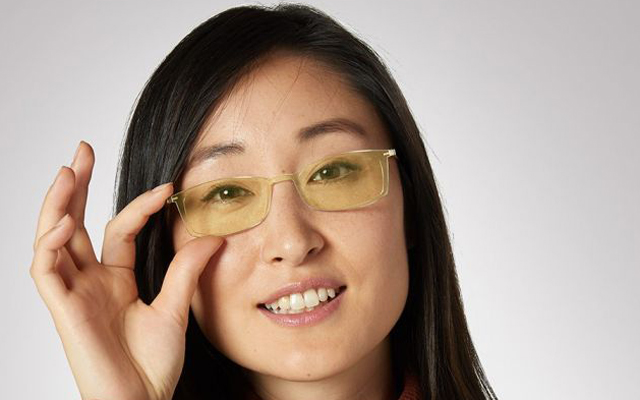 For Reading on the Go: ThinOptics Frontpage Brooklyn Computer Glasses
If you wear readers to check emails or watch video on the go, the ThinOptics line of readers are great for portability, and now, the lightweight readers come with blue light-blocking technology in their famously thin lenses. The Frontpage Computer Glasses are available in strengths ranging from +1 to +2.5 and claim to block from 40 percent of the blue light. They have a mild yellow filter, weigh just 9 grams and come with a slim aluminum case that slides into a pocket or attaches to the back of a phone case.
The lenses are made of scratch-resistant polycarbonate, but I do appreciate that the slim case is lined with felt to protect the glasses. The frame has very thin stainless-steel hinges, and the temples feel a little more fragile than others, though the company says they won't break and offers a money-back guarantee. Some Amazon customers had issues with the reading strength, so it's important to note that a +2.0 covers the spectrum of +1.75 to +2.25 and order accordingly.
These are not the glasses you would want for all-day, every-day use. They're more like drugstore readers. But at less than $50, the Frontpage Computer Glasses are great for throwing in a bag as an extra pair of readers on the go, with the added blue light protection.
Blue-light blocking: 40%
Specialty types: Readers
Prescription: Yes, readers only
Case: Aluminum case is well designed and protects glasses from damage
Price: starting $49 on ThinOptics, check price on Amazon
Returns: Within 30 days of purchase
Why you need blue light glasses
Do your eyes get tired and dry at the end of the day? If you work on a computer or look at a screen all day, you could have something called Digital Eye Strain. A recent study by the Vision Council found nearly 90 percent of Americans use digital devices for two or more hours each day, and close to 60 percent use digital devices for five or more hours each day. Add in time spent emailing, texting, watching videos, and playing videogames, and that's more than enough to cause those symptoms of dry, itchy eyes, headaches, and blurred vision.
What causes digital eye strain? You can blame it on our tech-centric world. Experts say sustained exposure to the high-energy visible (HEV) or "blue" light emitted from all those screens causes issues like dry eyes and headaches and can even keep you from getting a good night's sleep.
Blue light may have potential long-term effects as well. Some research shows prolonged exposure to blue light from computer screens, smartphones, and other digital devices may increase your risk of vision issues such as age-related macular degeneration and cataracts. Other research points to retina issues down the road.
Prevention seems to help. In one study of teenagers using blue light blocking glasses on LED screens before bed, researchers found a decrease in the alertness brought on by blue light before bedtime.
While it may be some time before all these studies are conclusive, it's easy to protect yourself from exposure to blue light.
[Image credit: Andrea Smith/Techlicious, Gunnar, Felix Gray, Zenni, Real Shades, ThinOptics]
---
Discussion