We may earn commissions when you buy from links on our site. Why you can trust us.

The Best Free Movie Sites Ranked from Awesome to Awful
Challenging the subscription-based Netflixes, Amazon Primes, and Disney Plusses of the online streaming world are a growing plethora of subscription-free, ad-supported streaming movies sites, also known as streaming video on demand (SVOD) services. Few of these free movie sites offer original content; rather, you get a handful of "good" or name films, and hundreds if not thousands of direct-to-video and old public domain films.
Each of the films on these "free" streaming services such as Crackle and Plex is interrupted every 10-20 minutes by up to six 10- to 30-second commercials. These ad interruptions are inserted not at logical breaks in the action but helter-skelter, often in the middle of a scene, sometimes in the middle of a line of dialog. Many repeat the same ads ad nauseum throughout the flick.
Well, you get what you pay for.
Are any of these free movie services better than others? Absolutely. We've spent several weeks watching movies on nearly a dozen free streaming movie services via Roku, but these SVOD services also are available via apps for smartphones, via the web on PCs, as well as on other smart TV platforms and streaming media set-top boxes that might or might not include all of these free movie services.
What makes one free movie streaming service better than another?
The quality of the films available: While some services offer titles others don't, you'll find a remarkable amount of similarity. John Wayne (especially Angel & the Badman) and Steven Segal flicks are both widely represented across multiple services, for example, as are Donnie Darko, The Illusionist, Sliding Doors, King of New York, Monster, Howl, the original Dolemite, and a host of other greater and lesser titles.
Ad breaks: A few services take more care to insert ad breaks at logical points in the action, but most don't – prepare to have your cinematic reverie rudely and arbitrarily interrupted several times. A few services warn you a few seconds before a break is coming. Some services widely space their breaks, sometimes up to 20-25 minutes apart, with more ads, while others break more frequently than fewer ads. Most services tell you how many ads will be in the break, so you know how long you've got to hit the head or grab a snack, and most countdown the time remaining for each ad.
Search/Save/Navigation: Some services make it easier to find a specific film either by providing a search function or breaking its offerings into logical genre groups to simplify browsing. The better sites let you save films you come across while browsing to a watch later list.
TV Shows/Live TV: Nearly all these free movie services also offer an extensive library of old TV shows, and some even offer live TV channels – but those offerings are a whole 'nother story. For instance, you won't see Pluto TV noted here since it only offers "live" TV channels, which means you have to watch films when Pluto decides to stream them, rather than "on-demand" flicks you can stream whenever you want.
Here's our assessment of the most prominent free movie streaming sites; since services often add and subtract titles from their catalogs, some films cited may no longer be available.
Best Free Streaming Movie Site: Kanopy


Rating: 4.5 stars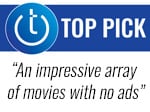 Kanopy is the exception among all free movie streaming services in two major ways: no ads, and an eye-popping array of current and recent Oscar winners.
Instead of being ad-supported, so no annoying ads interrupting your cinematic enjoyment, Kanopy, which offers 30,000 titles with around 300-500 new titles added each month, is supported by your local public library. Just find your local or college library from the list at kanopy.com, enter your library card number or college/university ID and PIN, and you can watch up to 10 flicks per month in the way god intended flicks to be watched – no interruptions unless you hit pause.
Unfortunately, not all public libraries are Kanopy partners; for instance, no New York Public Library. And Kanopy doesn't offer a subscription plan in case your library isn't a Kanopy partner, which is too bad because Kanopy's other differentiator from its free movie streaming competition is the quality of the films you can stream.
When you click on a film you're interested in, you get a star rating, recommendations for similar films, and the option of adding the title to a wish list – and my Kanopy wish list is already bulging at the digital seams.
Pros:
Ad-free movies at no cost
Impressive array of Oscar winners, documentaries and foreign films
Save to watch later
Search function
Unlimited Playson Kanopy Kids and The Great Courses
Cons:
Limit of 10 films per month
Need a library or student ID card
Less than half of local public libraries are Kanopy partners
Best Films: Parasite, Moonlight, The Big Short, Ammonite, I, Tonya, Colette, Lady Bird, Chinatown, The Odd Couple, Shane, The African Queen, Steamboat Bill Jr., Metropolis, Safety Last, Wings, Buffalo '66, Seconds, a trio of Jerry Lewis films The Patsy, The Bell Boy and Cinderfella, Re-Animator, Big Night, both the original anime Ghost in the Shell and its sequel, several Federico Fellini, Roman Polanski, and Ingmar Bergman films, documentaries such as The Central Park Five, Super Size Me, Echo in the Canyon, Hoop Dreams, The Life & Times of Harvey Milk, Bombshell (the must-see Hedy Lamarr invents spread spectrum doc), An Inconvenient Truth
Here are some pros and cons of the other free movie streaming services from best to worst.
FxNow


Rating: 3.5 stars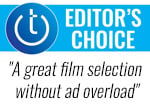 In Brief: While FXNow is mostly a site to promote original FX/Hulu TV series, you also get a great selection of recent well-known and high-quality films, but most have been edited for time and format (i.e., aspect ratio) as if the film was being run on broadcast TV.
Pros:
Widely spaced commercials – first ad doesn't appear until 30-40 or so minutes into a film
Many high-profile Sony/Columbia films
Access to five live FX feeds: East, West, FXX East, FXX West and the Fox Movie Channel, through your local cable provider
Search function
Save to watch later when you create an account
Cons:
Fewer titles than other services
Sign up through your local cable provider required for access
Films modified from original version for TV broadcast
Some blank screens instead of commercials
Best Films: The Avengers films, Baby Driver, BlacKkKlansman, The Amazing Spider-man 2, Maze Runner, Mission Impossible films, The Hangover, A Quiet Place, Bohemian Rhapsody, Spider-Man: Into the Spider-Verse, Dawn of the Planet of the Apes and War for the Planet of the Apes, Daniel Craig James Bond films, World War Z, Mission Impossible films, F8: The Fate of the Furious, Girls Trip, The Purge films, The Shape of Water, The Peanuts Movie, Green Book, Gone Girl, Hidden Figures, First Man, The Greatest Showman, Interstellar, The Revenant, X-Men: Apocalypse
Tubi


Rating: 3 Stars
In Brief: Tubi has a surprisingly impressive roster of 15,000 well-known recent and classic titles as well as TV shows, most presented in their original aspect ratio. However, many titles only are available for viewing for an unspecified period of time, sometimes just a few days.
Pros:
Save to watch later (Tubi account)
Search function
Separate Kids, Español categories
Settings include parental controls and "Do Not Sell My Info" (you have to submit a form through tubitv.com/privacy/opt-out)
Netflix-like interface
10-second warning before ad break
Cons:
Many films available only for unspecified "limited time"
No star ratings
Ad before film starts
Best Films: Alien, Borat, Slumdog Millionaire, Apocalypto, The New World, Pearl Harbor, Zulu, The Fountain, Michael Clayton, Little Miss Sunshine, Wall Street, The Andromeda Strain (original), The Passion of the Christ, Fahrenheit 9/11, Chariots of Fire, The Pride of the Yankees, Hitchcock's Notorious , Stagecoach (1939), The Bells of St. Mary, The Gunfighter (1950), Tucker: The Man and His Dream, Sounder, Charade (original), Howard's End, Breaker Morant, Becket, Voyage of the Damned, Guys and Dolls, The Artist
Crackle


Rating: 2.5 stars
In Brief: Owned by an SVOD company called Chicken Soup for the Soul (which also owns Popcornflix), Crackle offers not only a wide selection of film, but also a growing number of original movies and series as well.
Pros:
Wide selection of quality theatrical and original titles
Commercial breaks at natural spots
Save to watch later
Navigate titles by category
Fewer ads when signed in
Cons:
No search on smart TV app
No "top rated" category to finder higher quality films
Commercial(s) before movie starts
Increasing number of spots deeper into films
Crackle ID bug in lower right corner
Best Films: Salt, The Sum of All Fears, The Terminal, The Quiet American, Death and the Maiden, Amelie, In A Lonely Place, Romper Stomper, Seabiscuit, It Happened One Night, Love Story, Lemony Snicket's A Series of Unfortunate Events, the original Invasion of the Body Snatchers, Strictly Ballroom, Searching for Bobby Fischer, Black Sunday, The Mexican, Pal Joey, All-Star Comedy Jam concert films, Fail Safe, a plethora of Three Stooges features, Tom Berenger starring Sniper films, a lot of Christmas films
IMDb TV


Rating: 2.5 stars
In Brief: Owned by Amazon, IMDb presents a slim but impressive selection of both movie and TV titles, including a smattering of original content that is likely to expand over time. For instance, IMDb TV will be the new home for next version of the popular Amazon series Bosch next year.
Pros:
5-second warning before ad breaks begin
Can set preferences on Amazon to see "interest-based ads" based on your Amazon browsing and shopping history
Some sponsored films with limited commercial breaks
IMDb ratings
Cons:
No save to watch later
Starts with widely spaced breaks that shorten to as low as 13 minutes between breaks over time, with unpredictable two-to-five ads per break
Often kicked out of film, then forced to watch more ads before resuming playback
Best Films: Cloudy with a Chance of Meatballs, Snowpiercer, Black Swan, Sideways, Birdman, Orlando, Lost In Translation, the 2009 Star Trek reboot, The Sting, All The Money in the World, Alien and Aliens, The Big Lebowski, Fried Green Tomatoes, Eternal Sunshine of the Spotless Mind, The Lady From Shanghai, many old 1950s sci-fi film (some colorized, shown full-frame rather than their original 4:3 aspect ratio)
Vudo-Fandango


Rating: 2.5 stars
In Brief: Primarily a streaming film rental site, but Vudu-Fandango does offer a limited number of ad-interrupted films you can watch for free.
Pros:
Widely-spaced ad breaks – between 18-26 minutes – with only three ads per break
Filter films by Most Watched, Release Date, Year, MPAA rating, and Rotten Tomato rating (Fresh Only or All)
Save to watch later (but I couldn't locate my list)
You can rate films by half stars up to five once film ends
Cons:
You're asked to create a name/password login, and enter your credit card info if you intend on renting films, but it's not immediately clear you can skip this step
Fewer than 9,000 ad-supported films, of which only 1,222 appear once you apply the Most Watched and Rotten Tomato Fresh Only filters
No genre categories, no search function
Best Films: Shawn the Sheep, Highlander, Big Eyes, Ondine, Kentucky Fried Movie, the original Night of the Living Dead, the original House on Haunted Hill, Becket, Stop Making Sense, Battleship Potemkin, two Frank Sinatra classics, The Man with the Golden Arm and Suddenly
Xumo


Rating: 2 stars
In Brief: Similar to Pluto TV, Xumo is primarily a "live" TV service with 190-plus channels, but also offers on-demand streaming movies. Xumo offers an interesting collection of films, including nearly 150 Bollywood flicks, but it lacks many of the features offered on other free movie services.
Pros:
Wide choice of Bollywood films
Usually only three ads per break
Cons:
Frequent ad breaks, sometimes less than 10 minutes
No save to watch later
Little information about films
No search function on smart TV app
No "on demand" movies on web site
Best Films: Adaptation, Brian's Song, Annie, To Die For, A Boy and His Dog, Wolf, Toy Soldiers, See No Evil, Hear No Evil, My Name is Nobody, Melancholia, Parkland, Look Who's Talking, The Outlaw (colorized), Troop Beverly Hills, The Private Life of Henry VIII, Laurel & Hardy Way Out West
Plex


Rating: 1.5 stars
In Brief: Similar to Crackle and offering many of the same movies – often labeled as coming from Crackle – but no original content, Plex focuses mostly on action-adventure films of more recent vintage but with few well-known titles. You get a save-to-list and some customization options by signing up with email address or through Roku. Service also includes live TV channels, including access to other streaming services, with live previews.
Pros:
20,000-plus movie titles, mostly from Warner Bros. and MGM
Five-second warning before ads start
130 live TV channels
Premium option ($4.99/month), with ability to download films for off-line viewing
Save to watch later (with email)
Search function
Cons:
Not many recognizable films
Frequent ad breaks, some only 10 minutes apart, some with as many as six ads
Abrupt cuts
Best Films: Django Unchained, Noah, Aeon Flux, Silver Linings Playbook, Tomb Raider: Cradle of Life, a lot of vampire vs. werewolf films (but not the Twilight series), Lucky Number Slevin, a whole "We Are Proud" LGBT film section, Jason & the Argonauts, Walking Tall
FilmRise


Rating: 1 star
In Brief: More than 40,000 films and TV shows, few of which are recognizable, with few frills; FilmRise seems like a clearing house to supply films to over ad-supported SVODs.
Pros:
Large selection of titles
Cons:
No search on smart TV app
No save to watch later
Frequent ads (every 12-14 minutes)
Ad volume much louder than content
Can't watch on PCs via web browser
Best Films: Disclosure, Find Me Guilty, Momento, The Sweet Hereafter, Playing for Time, My Friend Dahmer
Fawesome


Rating: 0.5 stars
In Brief: There are more than 10,000 titles on the "free awesome" (Fawesome) movie service, along with more than 250 free streaming channels. However, the pickings for recognizable or quality titles are slim, even those listed in the "classics" category, and you can't stream on a PC via a web browser, only via the Fawesome Windows 10 app.
Pros:
Search function
Star rating, but no idea of source of rating
No closed captioning
Cons:
Can't watch on a PC via web browser
No save to watch later
Few known or recognizable films
Release year not listed
Frequent commercial breaks (usually 14-15 minutes apart)
Repetitious commercials
Best Films: Creator, The Adventures of Robin Hood, Dementia 13
Popcornflix


Rating: 0.5 stars
In Brief: A lot of titles shared with Crackle since Popcornflix is also owned by Chicken Soup for the Soul. Popcornflix presents an eclectic collection of titles with some pearls you'll have to deep dive for – but beware: the Popcornflix.io and Popcornflix.stream web sites are NOT the actual Popcornflix.com site.
Pros:
Small collection of Shout Factory titles
Cons:
Beware the Popcornflix.io and Popcornflix.stream web sites
No save to watch later
No search on smart TV/streaming media box application
Too many repetitive ads
Best Films: A series of Phantasm sequels, The Boys From Brazil, I Am Big Bird, Roman Polanski's Repulsion, The Stunt Man, Head of State, Sky Kids 2, Orson Welles' Othello and a host of other Shout Factory titles, Werner Herzog's Fitzcarraldo and Aguirre, the Wrath of God, All Things Must Pass, Breakdown
[Image Credit: TV with bowl of popcorn via BigStockPhoto]
Stewart Wolpin has been writing about consumer electronics for more than 35 years, including news, reviews, analysis and history, and has attended and covered nearly 50 Consumer Electronic Shows and around a dozen IFA shows in Berlin. For the Consumer Technology Association (CTA), he is an elector for and writes the official biographies of the annual CT Hall of Fame inductees, and is the keeper of the industry's official history.
---
Discussion