Best Real Estate Sites to Help With Your House Hunt
Techlicious editors independently review products. To help support our mission, we may earn affiliate commissions from links contained on this page.
Looking for a new home can be daunting, but fortunately the Internet is here to help. From picking the perfect neighborhood to finding your dream home, there are online resources to make your house hunt a lot easier. So if you're in the market for a new home or just browsing, check out our favorite real estate resources.
Online real estate searching made simple
The first step in any house hunt is seeing what's on the market in the area you're looking at. There are tons of sites that do this, and all of them provide fairly similar info: letting you view real estate listings by area and bringing up basic info about any home hat meets your search criteria. But while you might think one site's as good as another, we have some favorites.
Zillow
In addition to the standard real estate info, Zillow lets you easily browse real estate listings by map location, which makes it a great service for scoping out what homes are available in a particular neighborhood. There are filters to help you narrow down your search by price (though value listed isn't always exact.) You can also see if houses are new or recently foreclosed.
Find a listing you like? Clicking on it will give you more information about the property including a gallery of pictures, if available. Extended information includes all the prices of the homes in a few blocks as well as an estimated monthly payment tool.
If you want to take your real estate search on the go, Zillow also offers mobile apps for iPhone and Android.
Trulia
We like Trulia because of the huge amount of property info it offers. Not only does it provide the expected home info similar to Zillow —like photos, a realtor's description, and information about the home's features— but it also lists local schools, gives a rating for the quality of the neighborhood, and offers information about crime rates and public transit.
It's everything you could ask for in a great house-hunting site! And, like Zillow, Trulia offers apps for iPhone and Android to take your search mobile.
HomeSnap
The HomeSnap site blends our favorite features of Zillow and Trulia, offering an easy map-based search with lots of property info—though not quite as much as Trulia offers—in an easy to browse format. Though the real unique feature of this service comes with its mobile app.
Drive past a house for sale? Take a pic of it with your phone using the HomeSnap app and it will show you the listing information about the property. It even works on unlisted homes, condos and townhouses. The app is free on iTunes or Google Play.
How to find out about your new neighborhood
Once you've picked some properties you like, it's time to dig in and do some more research. A home that seems perfect may turn out to be in a neighborhood that's less than perfect or be in an undesirable school district. Before you commit to buying, you should do your homework and make sure the area you're going is the place you really want to be.
GreatSchools
For parents, GreatSchools is a must-visit, offering informations on the quality of schools and school districts with an easy search that lets you view schools near your new home. In addition to overall ratings, GreatSchools has reviews written by both parents and kids, giving you invaluable insight into your new school district.
Neighborhood Scout
Neighborhood Scout provides information about neighborhoods across the country: to get started, just search by city or address. Find average house values, local school information, resident demographics, crime rates, traffic data, and more. For some information you'll have to subscribe, but a lot is available for free.
Subscription rates start at $20 for 6 months and gives you detailed reports on schools, crime rates and home appreciation rates in the neighborhoods you are looking at. Though much of this information can be found on the other resources we have listed in this article.
StreetAdvisor
Give StreetAdvisor a location and it will give you the best rated neighborhoods in the area, with pros and cos to each. And while it seems a lot like Neighborhood Scout on the surface, we like StreetAdvisor's neighborhood reviews by residents—all of which are full of great info. On the downside, smaller towns and communities have fewer reviews—or none at all—making the site less useful than it could be.
For a great alternative for local user reviews of neighborhoods, also check out Yelp.
CrimeReports
As the name suggests, CrimeReports provides information about crimes committed and the location of sex offenders in neighborhoods across the country. Just enter a neighborhood or address and it will bring up a map dotted with locations of crime reports, compete with details on the type of crime and when it was committed. And if you want regular updates on local crime, CrimeReports can send email alerts with the latest info.
Though this site is packed with useful information, it reports more for certain areas—for example, in our search it came up with a wide variety of crimes in Los Angeles, California, but only reported sex offenders in Austin, Texas. So depending on where you're looking, the information provided may be more or less useful.
How much house can you afford?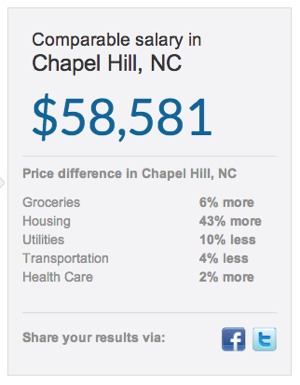 One of the hardest things about moving—especially if you're moving across the country—is figuring out your costs and expenses. For that, we like CNN Money Tools. This collection of helpful calculators helps you figure out how much home you can afford, what your mortgage payments will be, what the cost of living in different cities is and much more.
These resources are good way to start your research into your next home or even check out what's going on in your own neighborhood. If we've missed any valuable and unique sites to help with home buying, let us know in the comments below.
Discussion