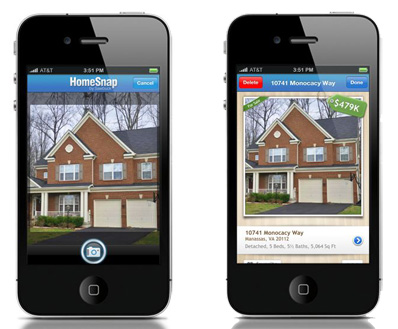 Have you ever passed a house and wondered how much it's worth? With the HomeSnap app (free in iTunes), finding out is as simple as taking a picture.
Using your iPhone's GPS, HomeSnap identifies the home in your picture and brings up all the details. You can find out what it's worth, when it last sold and for how much, how many bedrooms and bathrooms it has and how big the lot is.
If the home is for sale, you'll see the current list price, how long it's been on the market and pictures of the interior. You can also schedule a showing with a real estate agent through HomeSnap.
For serious home buyers, there are also on tax records, local school information, census demographic data and information on the neighborhood.
HomeSnap coverage is nationwide, and Multiple Listing Service (MLS) data, including agent scheduling, is available in 13 markets:
Baltimore
Boston
Chicago
Dallas/Ft. Worth
Houston
Inland Empire (East of Los Angeles)
Los Angeles
Philadelphia
Phoenix
Providence
San Diego
San Francisco Bay Area
Washington D.C.
Future MLS coverage is planned to cover the top 35 markets. An Android app is in the works.